Been working on rain particles and ground splashes for Orbit: Weather & Seasons Suite
Finally updated my Weapon Attachment System and Menu.
Been working on this head for a while, I've used the Sparrow example eye for now. will swap it out once i've got the model ready
Made it so weather effects (snow buildup, rain wetness) don't occur under covered areas.
Thanks @RyanB for being such an awesome source of information!
Looking good, but that head bob is irritating. No one walks like that.
Thank you! I'm a big fan of yours, your sci-fi assets are extremely impressive
Thanks! Likewise for your weather system. Can't wait for it to be released. =)
Another weapon from our game, Valgard and The Armor of Achilles, The Weapon Lightning!
Weapon Lightning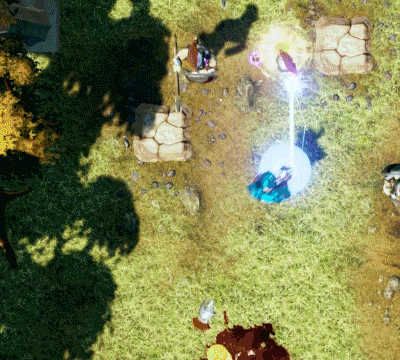 Level 1: It shoots a lightning that strikes the first thing in the way.
Level 2: It shoots a lightning that strikes everything in the way.
Special: It creates a energy cloud that strikes lightnings to every enemy nearby.
Hi guys, I just uploaded a new game play video for Save Our Souls: Catalyst, sorry for the horrible sound, I'm working on fixing it. Please let me know what you think.
It looks good, a mini map and damage direction indicator (Halo like) would help playing the game.
This is my first work in Unreal Engine. Will there are mistakes everywhere

Here is the cinematic:
https://youtube.com/watch?v=gy7aqyXzghU
Check it out how The Catacombs level is looking by now in our game Valgard and The Armor of Achilles!
WarHalla - A 3rd Person Shooter
Hey everyone
I would like to share the game we are currently working on here.
We are a team of 4 students that made everything you see in almost 3 months as our 5th semester project, but we plan on continuing the game now for our bachelor semester
So any Feedback would really help us out.
The video should explain the rest!
Cheers,
Tom
working on a sunny railroad station: