Update: 4.19 v2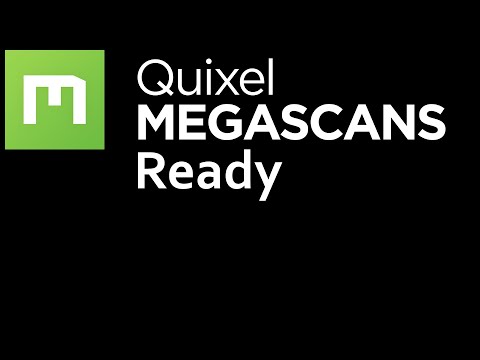 4.19 just got a new update!
Pack is now Quixel Megascans ready!
Random UV when mesh moves around (for more variety per mesh)
AO options.
RMA-Packed version.
Desaturation of floor/Walls.
Some other additional tweaks.
---
UPDATE: 4.19 v1.5 has a new update optimizing the shaders a bit, and improving upon them.
See my latest post about it here:
https://forums.unrealengine.com/unre…95#post1474995
---
After about a year of on and off work (give or take 5 - 6 months if I dont count days off/rl stuff) I think I am at a point where this is ready to be released.
I bring you the one and only cave package you will ever need (I hope

):
Luos's Modular Rocks & Cave package!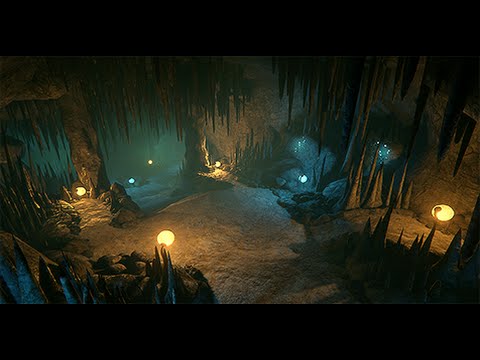 ---
Current Status:Released! check it out at https://www.unrealengine.com/marketp…ar-rocks-caves thank you!
---
Estimated Price: $ 74,99
So what is in the package?
deep breath
---
*Main Content:
485 meshes.

79 of these are modular cave meshes in 5 catagories (813 polygon average)

I-shaped corridors & rooms.

L-shaped corridors & rooms.

T-shaped corridors & rooms.

X-shaped corridors & rooms.

Additional sections.

406 of these are rock & prop meshes in 11 catagories. (2100 polygon average)

Rocks.

Columns.

Arches.

Stalagmites & Stalactites.

Floors.

Mesa's.

Spires.

Walls.

Crystals.

Mushrooms.

Additionals.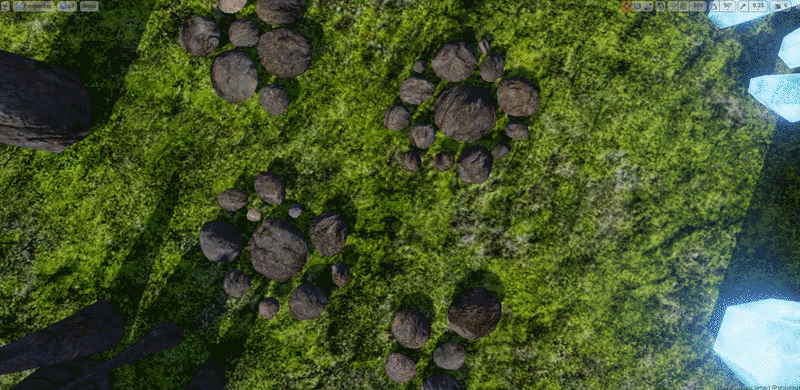 All meshes come with:
Collision <> Updated! Improved Collision complexity between 20 - 90%!
Proper lightmaps
Modular meshes have sockets at each entrance. (easy when you want to use blueprints on them)
Modular meshes already set up for a future spline tool Jan Kashaar is working on, and helps if someone wants to create an auto cave-system generator.
Material details: (for caves/rocks only)
Number of Master Materials: 1

heavily customizable.

can use any and all arbitrary tiled textures.

Automatically rescales Uv's to the world scale of the mesh.

Optional directional blend Moss/Ice layer.

Optional checkermap.

Well documented.

Number of Material instances: 253+

Many, many options available.

Each option will explain what it does when hovering over it.

Very versatile, easy to enable and disable whole parts of it.

Set up for all 30 texture sets.
All Mat-instance options:
Texture details:
Texture resolution: 4096x4096.
32 texture sets.
some additional props have lower resolution textures.
Additional Content:
8 example levels. (realistic, fantasy, indoor, outdoor)
1 simplified version of main Master Material.
20 Master materials for additional props.
16 additional Mat. Instances.
24 water/drip sounds + cue's.
4 Material functions.
4 decals. (Moss, wetness, Glowworms)
3 Particle effects.
7 Blueprints.
2 Bokeh's
1 Dirtmask.
4 tutorial videos on youtube.
2 timelapse videos on youtube.
And some other little things.
________________*
Additional information about the Master Material:
Whole master material is well documented so if you want to go in and check it out its easy to see what does what.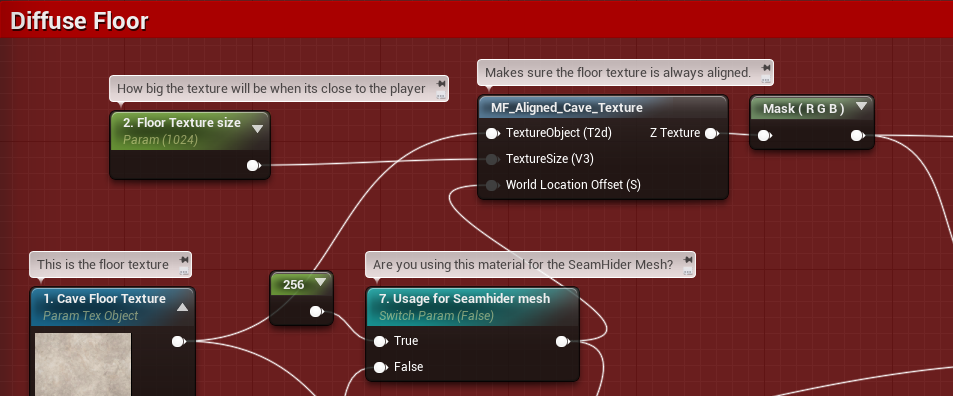 All options in the Material Instance have descriptions.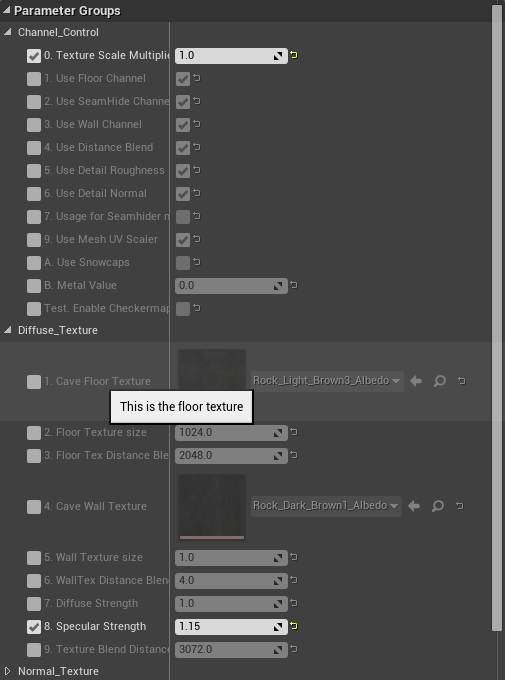 You can use any and all arbitrary tiled textures. (Seamless textures)
This means that you only need up to two different textures for ALL the meshes. (Think of the Vram space you are saving!!!)
This also means that if you make a seamless texture, purchase one from the marketplace or get one from any other location, it will work on these meshes!
To give you an idea, look at the following image.
The first shot is one of the example cave's that comes with this package as-is.
The three shots after are using the "Naturally Tiling Texture Pack" which never got released
The textures automatically rescale with the world scale of the mesh, which allows for fast, easy and extremely versatile environment creation.
This means that even the slightest change in scale will alter the look of the mesh as well!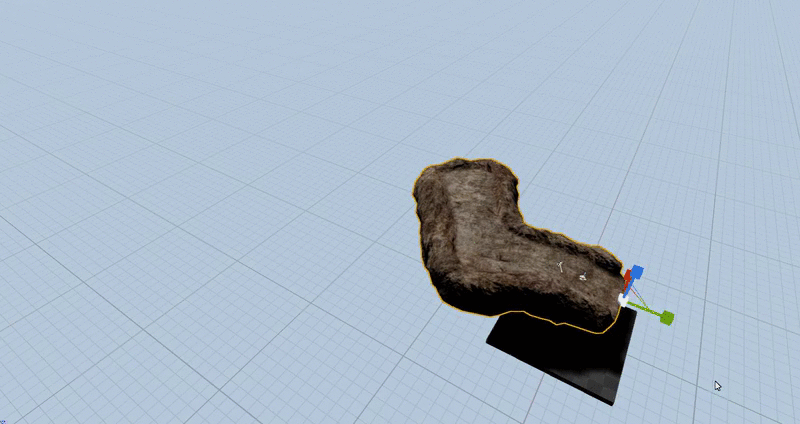 The material also contains an easy-to-use directional blend layer to create moss or ice effects.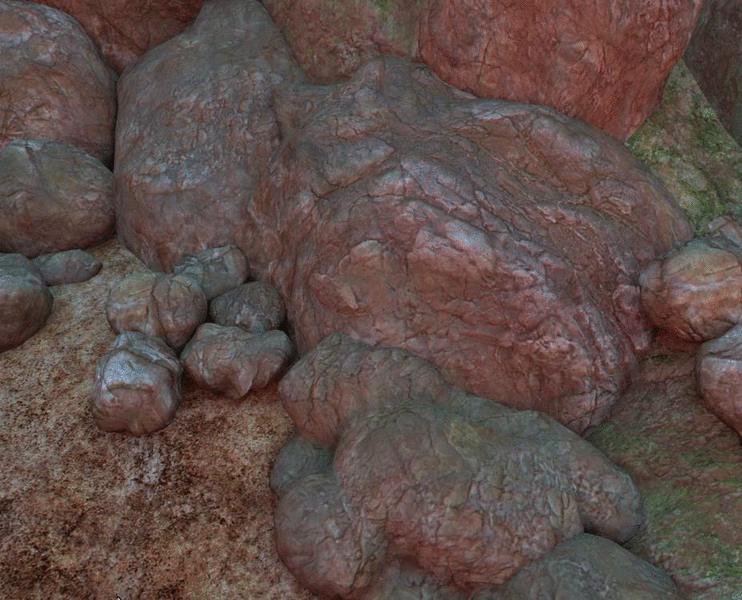 ---
Other information:
Can be used for realistic and fantasy themed caves.

Make massive cave systems in mere minutes: (Easily snap to grid)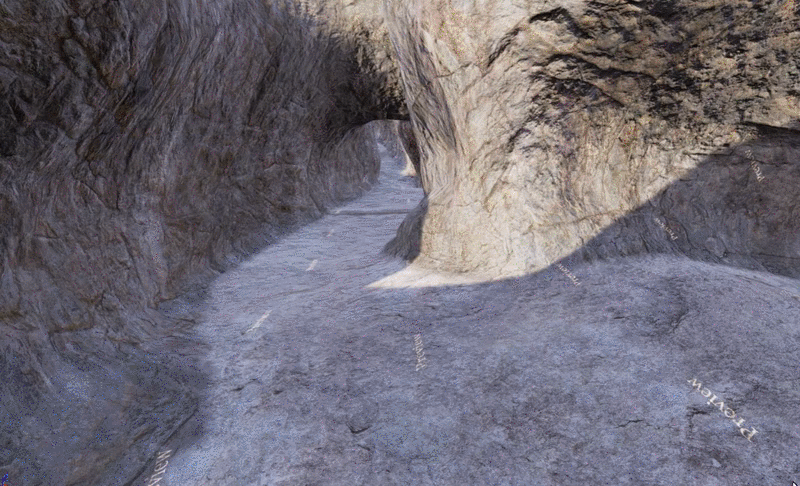 In theory can also be used for sidescrollers/top down.
All of the contained 32 texture sets (each containing Albedo, Roughness, and Normal maps) textures are provided at 4096 resolution, some additional props have lower resolution textures.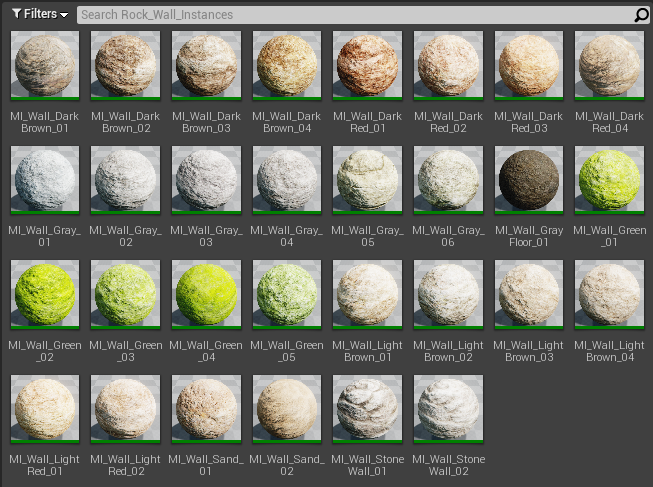 Also included are 7 showcase levels, with one created by beginner environment artist Will Chambers and one created by experienced designer Jan Kaluza (from http://www.broad-strokes.com ) to show the versatility and ease of use of this package.

Various video tutorials explaining how to use the package, as well as information about the master material and such. These videos can be found here: https://www.youtube.com/playlist?lis…hUYzETE0jq-OaF

Two Timelapse videos showcasing the ease of use of this package:
https://youtube.com/watch?v=JOd0vMCRDD4
https://www.youtube.com/watch?v=EPvhCx-W6jM

About the Tessellation, I did add a "test" version of the tessellation version of the master material so people who have the package can take a gander at it.
It might never become a fully supported feature due to the way the meshes & shader are set up though, but I'll do my best and hope that there will be some answer-hub support on the questions I asked.
Want to see the caves in action?
Go to this link](Flowstone Cave, and other news - Broad Strokes) and download the Flowstone Cave Experience!!
This experience is VR supported! Be sure to pump up the volume as well to experience the amazing sounds Jan provided to enhance the experience!
Special thanks to Jan Kashaar for his contributions! Give that man some hugs!
Package has been tested on Windows, VR (oculus), PS4, XB1, Linux, IOS.

Link to 77 more images from this package: http://imgur.com/a/4ykB0 (bandwidth eater, be warned)

Link to 100 more images from this package using the "Natural Tiling Textures Pack" http://imgur.com/a/Hw0Gi (bigger bandwidth eater, be warned)
---
Additional free packages: (Free DLC!)
Luos's FREE Modular Caves/rocks mini package:
This package is now obsolete if you own this package, as its added into the main package!
25 new meshes & 2 new materials!
https://forums.unrealengine.com/show…s-mini-Package
Gumroad link:
Direct download: https://drive.google.com/file/d/0B_c…duQ3ExYUEtdkk/
---
Upcoming additions:
Nothing as of now
---
Special thanks:
Jan Kaluza Kashaar - Support, Cave experience map, Sounds, encouragement, hugs, material improvements, VR cave experience!
Will Cahmbers - Providing another cave example map! check out willchamberscg.com for his work


Scott Baker - Support, encouragement.
Bruno Brito - For editing the videos, support, encouragement.
Chance - DUDE FINISH YOUR ROCKS!
Aaron Leaton - custom Normal/Heightmap I then used to generate a few meshes with.
The people in the skype chat for hearing me talk about this package for almost a year!
My mother, My biggest supporter. May she rest in peace.