I've been having trouble getting DFAO to work with tree foliage ever since the feature was first introduced. The default DFAO is much too dark for my purposes, but when I try to lighten it with the Min Occlusion (or Occlusion Exponent) setting, some areas remain dark and flicker strongly (see image below). I initially wrote it off as a bug that will eventually get fixed, but since it's still an issue even in UE4.20, I imagine there must be a way around it.
I set the Min Occlusion in the screenshots to 1 to better illustrate the problem, but it's very apparent even with lower values. Most of the DFAO disappears when I increase the Min Occlusion, but some areas remain extremely dark. If I brighten up the DFAO with Occlusion Tint instead, these dark areas don't show up. However, if I increase both Occlusion Tint AND Min Occlusion, the dark areas reappear (see image below).
I tried adjusting the distance field resolution of the trees, but even setting it to 0 doesn't completely get rid of the dark areas (see image below). I also tried a bunch of different settings on the sky light, but other than the Occlusion Tint, which causes a bunch of other problems, nothing really worked.
In an actual scene, it looks something like this: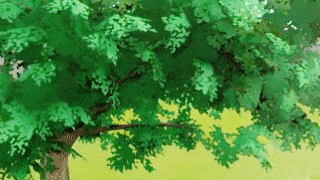 This problem has been haunting me literally for years now, so any help would be greatly appreciated!