Disclaimer: This is written by and for first time game devs. Take it with a grain of salt because I could be completely wrong.
Mods: I posted to "work in progress" because it's in Early Access but feel free to put this where you feel it's most fitting.
Post-mortems were a great resource for me going into game development so I wanted to write about my own experience in the hopes that it will give the next dev an idea of what to expect. I tried to write this in sections so feel free to skip around. But if you don't have time here are the 3 most important rules I've come to believe:
1) Have a game design document and stick to it - It's so easy to get lost in your game and lose perspective especially for a solo developer.
2) Follow Steam's guidelines - Valve knows what it's doing.
3) Don't feed the trolls - no one has ever won an argument on the internet.
The Game
CAT Interstellar - I wont repeat the description on the store page here but basically It's my attempt to bring a little science and actuality back to science fiction. I wanted to take the immersion I loved in "walking simulators" and add some game mechanics with an environment you can interact it. When I was 18 I was deployed to Iraq and one of my team leaders introduced me to Robert Heinlein. If you haven't read his books I would definitely recommend them. They're more about society than giant space battles and laser guns. They really helped me to understand the world around me and I wanted to try to bring that to video games. The story is about conservation and on a very low level asks the question of whether or not you should "pave a road through paradise" or allow unregulated (natural) foot-traffic. It's a little politically charged but I'm trying not to force my opinion in the game, just presenting a situation.
About me: Just got my degree in physics and was lucky enough to spend my senior year learning UE4. I have about a years worth of professionally experience with both Unity and UE4 but not in making games and certainly not publishing to Steam. I've been modding for about 18 years starting with C&C: Red Alert Nurple maps. I've always loved video games and being a game developer has been a dream of mine for a long time.
---
Game Jam (community,UE4):
GameJams
These are great and I would recommend you enter them regardless of your level of experience. I originally entered CAT Interstellar into the May game jam themed "Raining Cats and Dogs". You can download my entry here. These game jams are great ways to prototype ideas and get feedback on your game. We didn't win the game jam but a guy named Allar, who does a twitch stream of all the submissions here and gives feedback on your submission the same night, said the game had a solid mechanic worth exploring and that was a huge confidence booster. The point here is that it's a great chance to show your game to a stranger and get decent feedback.
Unreal Engine 4
Unreal Engine 4 is going to give you a huge leg up on the competition. The return on time investment for visual quality is… Unreal. Even more important than that Epic has well over 100 gigs of the highest quality assets and examples you could ever hope for. Examples of just about everything and native plugins for Steam, Oculus, and leap motion for free. I'm posting this in the Unreal forums so your all probably aware of this but it's worth saying anyway.
Community
I might be a little biased because I got in when the community was starting but this is one of the most helpful and respectful forums I visit. A huge reason I even got to this point of was from the feedback I got from this post. There are also a ton of other dev blogs with very good advice like the one for Bears Can't Drift.
Blueprints
These deserve their own section because they are amazing. I've worked professionally with C#, C++, Java, and Labview but Blueprints are, by far, my favorite. You can prototype ideas incredibly fast and the compile time is instant. CAT Interstellar is built entirely out of blueprints. I've heard blueprints have their limitations I haven't run into any yet.
---
Greenlight:
1) Don't promise people things that weren't in the original game design - you can't please everyone and NO votes aren't as bad as they sound.
2) Follow Steam's guidelines - Valve knows what it's doing.
2) Don't feed the trolls - no one has ever won an argument on the internet.
Here's the trailer I used for Early Access and the description:
[table="width: 1000"]
**A visual puzzle game that tells the story of humanities attempt to terraform a seemingly barren planet**

Play as a Dog V4 drone trying to reunite with his partner after being separated by a mining accident. Your drone's sensor can pick up on clues and tracks that will help you find your partner before it's too late. The game takes place on Kepler 452b, a planet in the process of being terraformed.
Game Features
Stunning and immersive environments
Dynamic environments utilizing Unreal Engine 4's dynamic material and physics engine
goal of +1 hour of gameplay
Game State
The game is planned to be released mid July
Currently in a stable beta and 3 out of the 7 environments are completed
Greenlight Thoughts
As you can see, I thought I would have the game completed by July… not even close (more on that later). I went into Steam Greenlight with nothing more than a webpage, twitter account and 0 followers. Steam Greenlight has a very healthy audience but you pretty much only have one shot at it. Once you pass through people's queues and leave the "Recent Submission" page, you're dead. I only say this because I've seen a number of submissions that completely disregarded Steams requirements and posted without a trailer, didn't show gameplay, and only had 1 or 2 screenshots. They later added that stuff but it was too late because they had already been passed over. It's also important to note that Steam Greenlight has changed a lot of the last couple months. There are about 10-20 games accepted every month. The top 15 or so games are just joke games like Gabe Newell simulator. I posted the game on may 31st and got greenlit June 8th (9 days). 6 months ago that would have been a record but now it's the norm. Here are screenshots of each day.
---
Early Access:
1) Use the "tags" system the way it's meant to be used - this are how you'll get people to your page when you're not featured on the main page.
2) Follow Steam's guidelines - Valve knows what it's doing.
2) Don't feed the trolls - no one has ever won an argument on the internet.
Here's the trailer I used for Early Access and the description: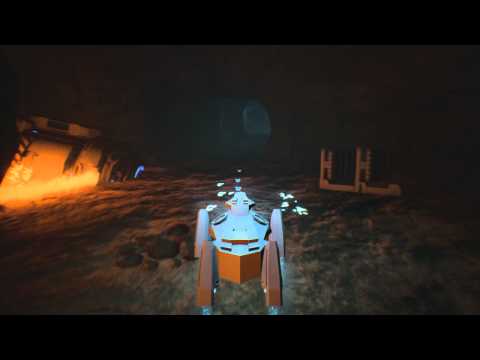 [table="width: 1000"]
**About This Game**

Play as a DOG V4 drone, a newly activated maintenance bot who is assisting in the terraforming effort on Kepler-452b. After a predictable yet unfortunate accident DOG finds himself uncovering the past of a seemingly barren planet.
GamePlay
The games current state includes the first environment (~15 minutes of gameplay) and an introduction to the second environment. The main goal of this release to get feed back on the player controls and game mechanics.
Story
We're trying to bring the "science" back to science fiction (with the exception of FTL drives which we tired to explain here). We also wanted to explore a scenario humanity might really encounter on the first planet we aggressively try to terraform.
Steamworks
When you get access to SkyNet (SteamWorks) Steam is going to treat you like an adult and let you practice whatever sleezy business model you want. They have a ton of good advice and videos that you should watch and follow because Valve knows how to sell games and they want your game to sell. As an indie dev the only time you'll probably ever talk to them is if you try to sneak your dog into a trading card background image (oops).
Early Access
The reason I decided to go into Early Access was because I thought I had reached a point where I could reliably introduce people to the story and get feedback on the game mechanics and player controls. I also thought the game had reached a point that it was representative of what I wanted the final product to be. Don't make this decision lightly. People are increasing skeptical of Early Access and Kickstarters (as they should be). We don't have a very good track record of completion so go ahead and assume that releasing to Early Access is in fact a release and the reviews you get will in fact stay with you forever. Gone are the days when people had mercy on indie developers (even cartoon network is an "indie" dev now). You won't get any slack just because you're a small team, solo, or indie but we all know this so more importantly TAGS.
TAGS
These things are there for a reason. What I have found most people do is try to get as many tags as they can. This actually hurts you. Unless you're riding the hype train you probably wont make it as a featured Early Access game so tags are your best bet. You need to find a game that has a similar audience to what you're going after and match your tags with theirs. This will let you pop up under the "More Like This" right before the reviews. For example I chose Lifeless Planet because it had a similar the type of story and gameplay so I thought the audience would like my game too. If you just leave your tags blank or throw a bunch of arbitrary things in there steam wont be able to match you with any other games.
Conclusion
I hope you can make use of some of this information because I think this is a great community. Keep in mind though that I have no idea what I'm doing. I've been very lucky so far that even the negative reviews were constructive. Next week I'll be competing with those chumps over at Konami and their foxtrot engine but I've already gotten a ton a good feedback. The players have also completely broken the game, moved stationary NPCs to the other side of the map, and completely disregarded the blocking volumes. Still, no reported game crashes so thank you Epic.
Also, I have a few keys left and would love to know what other developers think so if you're interested message me and I'll hand out keys until they're gone.
Edit: Just checked the steamspy stats and they're a lot more accurate than I thought they would be even for a smaller game. More importantly, it appears (not 100% on this) getting featured on the early access page has more to do with how much money you make than how many units you sell. I priced the game extremely low because I thought it would get more people and feedback but that might have backfired.
Another Edit: I released my game first thing Friday morning and I think that was a mistake. Currently you can only release on weekdays so releasing on Friday gives you 3 days on the front page of "newly released". If I had known better I would have released at the end of the day because I would be higher on the list right now. I'm still on the front page but 4th from the bottom. Not sure how much of a difference it makes but it's worth noting.