Watch Video Demo Here: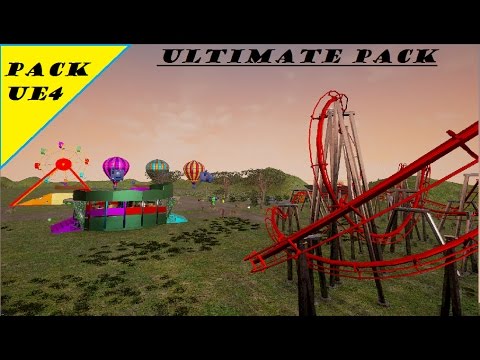 Get it Here:
The Ultimate UE4 Amusement Kit is one the biggest kits available only for UE4 developers to take their game to the next level of Fun in their games. Many famous game studios are utilizing like this feature to import a very sophisticated and powerful sense of fun and entertainment for their players, so what are you waiting for? Get it Now and make your game a BETTER, more Powerful and most importantly Fun game in all aspects.
This is a pack that is fully developed under Blueprints:
*
This pack contains:*
-A numerous Amusement pack games such as " The Ferris Wheel, The Bumper Cars, The Trampoline and The Roller Coaster and others"
-Skate System: many wanted this system to be out, and now it's available, you can even make a full standalone game of Skating using this system if you want.(It includes intelligent features such as detecting the floor to know how to rotate correctly, easy to add to any Character in game even AI)
-Air Balloons: this is a very fun feature that not a lot of UE4 games have, but now they do, (you can add this to your game and the players will be able to use it and fly high in the sky to enjoy the beauty of your game from above).
-Parachute: For the first time ever a Parachute system for all UE4 developers out there who want to develop an open world game such as GTA V.
*[FONT=Arial Narrow]*Bonus: - Jet Pack system: any open world game needs a Jet Pack to fulfill the needs of the Hardcore gamers.
*
NB: The Pack contains link to free animations used + HD Video tutorial to set it up.
#UnrealEngine4