I hate to say it, but John Carmack was right when he recommended against using UE4 for Gear VR. While I couldn't have done what I did for my Gear VR app with Unity in the same time frame, I can never get it to perform well in all circumstances. Now I see why Gear VR apps/games are mostly done using Unity.
I narrowed down performance issue I had with 4.11.2 and it finally ran at stable fps no matter what. Now with 4.12.5 I am in the same pickle, except now there isn't any way to fix performance issues (at least I don't see how).
I don't have HISMCs or foliage in my level. The entire game logic is as simple as it can be - just doing 1 trace and revealing / hiding 1 actor base on trace hit results. Shader complexity is nowhere near to be complex (checked it with viewmode shadercomplexity when in ES2 preview), low number of drawcalls, low number of tris in the view.
When I look around and up in the sky, fps is stable. As soon as I look down to my "feet", fps drops significantly. There is absolutely no reason for it to do so!!!
Here is a video with profiling results: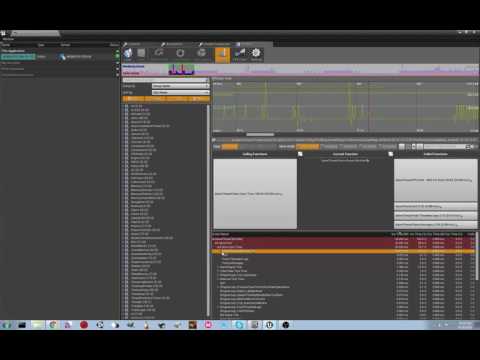 I am that close to throwing in the towel either going back to Unity or abandoning mobile VR development altogether.