I'm having two issues with the camera setup in the Vive:
There is a lag between actual camera movement and the data that I can get about camera location in Blueprint.

I am having objects drawn in relationship to the camera being drawn twice.
Breakdown
Here is a scene that illustrates both problems:
The scene contains a cone mesh parented under a scene object which is sat atop a pillar. The cone is set up to point directly at the camera at all times:
1. The Lag Problem
The cone does not point consistently at the camera in a fixed way, there is a significant lag between my movements and the cone catching up to point at me. This video shows the problem (although it is far more evident and easy to see when wearing the HMD):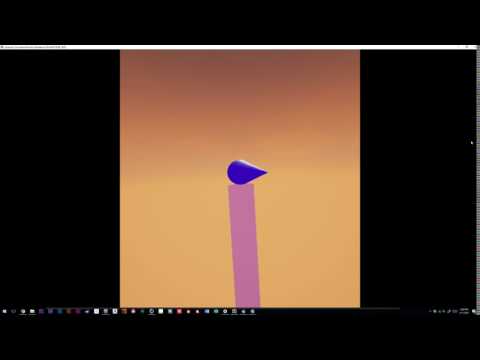 In this video, I am moving suddenly between two positions and then stopping. As I move fast away from a static position, I can see that I leave behind the cone a little bit. Once I stop again, it manages to catch up. Despite what seems to be a relatively simple Blueprint setup (making the cone always point at the camera), there is something strange going on here, and I need to find out how to eliminate it.
**
2. The Double Problem**
Stranger still, this cone is being drawn twice, one pointing at each eye. You cannot see this in the video above, because the viewport only shows one eye, so I have mocked up how this looks when in VR:
I would expect there to be just one cone pointing straight between my eyes, but instead the cone is drawn twice. What's going on here? Do I need in some way to get hold of both eyes/camera individually and use a location that is midway between the two, rather than attaching something to the main camera object? How does one get hold of each VR/HMD eye camera separately?
I've been bashing my head against both of these problems for a few days now, have tried countless different setups to try to figure out what's going on, and I'm getting nowhere. Unfortunately, both of these things being resolved is pretty essential to my entire project.
Can anyone shed any light on one or both of these issues?