[WIP] Thread, click HERE](https://forums.unrealengine.com/showthread.php?89156-WIP-ICHOR-Blood-Of-The-Gods-(open-world-rpg)&p=406923#post406923)
Here is a sample of our music:


**
Some basic systems of our game, please don't mind graphics or anything else at this point, as it's just for testing:**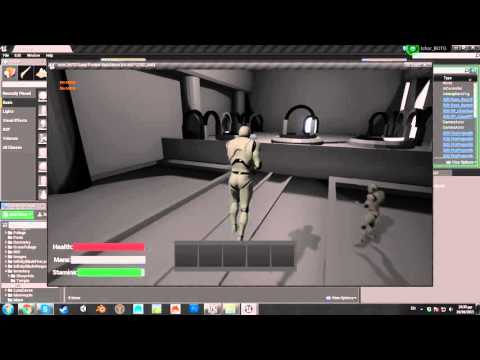 (it has regeneration system for stamina currently. When player stops moving it regenerates, if he moves, it stops regenerating.)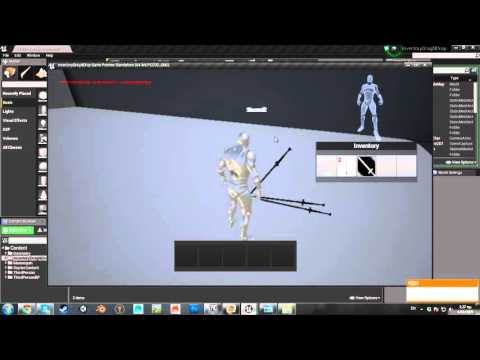 Hello,
**Project Title/Game Name: **
Ichor(meaning the blood of the gods)
Description:
The creation of the world was made by the Ancient One, from him came 3 gods(the one is our hero), those gods in fear of the Ancient One's power put him to eternal sleep, 1 god left the world ashamed of his actions. The other 2 Gods forced humanity to mine gold as gold for them was a source of energy. Humanity after many years is in the brick of destruction. And as such, some priests of the old tradition have gathered to a temple to bring back the forsaken one(god-our hero) to bring balance and free humanity from the bounds of the 2 gods.
The god that left has become weak and starts fading in the sands of time as he does not take part on the energy taking the other 2 gods have established.
Our hero is being summoned by the priests who praise the ancient one through a ritual on an ancient temple but they do not have much energy as they give everything to the gods and as such he has come with flesh and blood but has forgotten much, he must regain memory and make his blood ichor in order to become god again.
Ichor is the blood that flows only at god's veins. Inactive ichor has a red color but when activated it is cyan.
The game starts at the ancient temple where the priests-mages have summoned our hero.
Includes:
Tense atmosphere.
Medieval Fantsay
Third person view point.
PC port only.
It will have all the things a classical medieval fantasy rpg contains. Meaning inventory system, dialogue system, swords, bows, magic.
Team/Studio Name:
Arhaikos Studio
Team Structure:
Innos (Project Creator & Project Manager) - Blueprint/Storry writter/Game Designer
SettimaSounds - Composer
Mark - C++/Blueprints
LonesomeSoldier - C++/Blueprints/3D Modeller
Jedi - 3D Artist, Generalist
ggtfim - Concept Artist
Kevin - Concept Artist
Woody Wu - Blueprints/ C++
Jgibbins2- Sound Designer/ Story Writter
Muiz - 3D modeller
Ciprian - 3D modeller/Concept Artist
Trevor - Animator
**Previous Work:
**N/A - First title.
This is my first serious project
Talent Required:
3D Modellers - Artists will have to work with high poly, not low poly
Riggers
Animators
Level Designer
Technical Artist
Website:
Not made yet.
Contact:
Pm me here
E-mail me: arhaikos[at]yahoo[dot]gr
Add me on skype. Skype name is under my forum name
The game will be strictly third person open world rpg. Depending on the size of the team, the landscape will be larger or smaller with more or less content.
If you take part, you must agree from now that you will be paid when the games makes money. I am serious about finishing this project but that doesn't mean that I will die for it. I have a personal life too and enough duties… So I am looking for people who we can work if they can everyday for 1-2 hours and if they want more depending on their personal duties…
I am not seeking the perfect team members as I am a newbie myself too but I am eager to learn and I like getting my hands dirty. I look forward meeting the same people!
I do not like to mock people as I do not like people to mock me. So if you can afford making a contract with me to get sure you'll get the money when the game gets money, it's totally fine by me but I won't spent a penny on making contracts from people worldwide as I don't know you personally and you may want to leave during the development, and the money from contract will be a waste… But there will be an official contract before we publish the game. I adress this now so you won't tell me otherwise later. I like clean skies and I am speaking straight forward. If you don't want to make contract with me then I can only give you my promise that all team members will get EQUALLY paid and not even me as a project manager will get a penny more. The profits will be equally shared. I can't really do anything more than that…
PS: I want the team members to have their own ideas on what they are making and I want them to give me an output right from their heart. In the end we are going to sell "us" on the game and nothing else!
Thanks for hearing me out.
If you are interested, reply here with your contact info or pm me or add me on skype