Hey folks!
The Matrix Awakens: An Unreal Engine 5 Experience is now available to download for free on PlayStation 5 and Xbox Series X/S, created in collaboration with teams across both Epic Games and partners, such as SideFX, Evil Eye Pictures, The Coalition, WetaFX (formerly Weta Digital), and many others.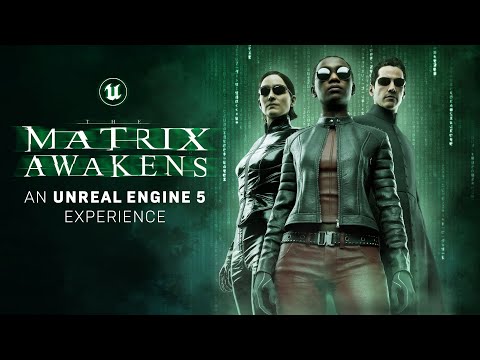 This boundary-pushing technical demo is an original concept set within the world of Warner Bros' The Matrix. Written and cinematically directed by Lana Wachowski, it features Keanu Reeves and Carrie-Anne Moss reprising their roles as Neo and Trinity and—in a reality-flipping twist—also playing themselves.
We've built a vast, 16 kilometers square open world city, comprised of 7,000 buildings made of thousands of modular pieces, each of those constructed of millions of triangles and enhanced with props, signage, debris, and more. There are 1,248 simulated intersections, 45,073 parked cars (of which 38,146 are drivable), over 260 km of roads, and 512 km of sidewalk.
The interactive experience is packed with believable characters and drivable vehicles. You can explore the city on foot, hop in a vehicle, or fly around with a drone's-eye view. Adjust the lighting in the experience by moving the sun to any angle and seeing the effect instantly, all because Lumen renders in real time. There's even an experimental night mode hidden in the experience for you to discover.
To learn more about how UE5 technologies such as Nanite, Lumen, Chaos, and more were leveraged to build the reality-bending experience, head over to the Unreal Engine feed.
And download The Matrix Awakens: An Unreal Engine 5 Experience for yourself on either PlayStation 5 or Xbox Series X/S.