The Art of Combat is the complete combat system for the Unreal Engine.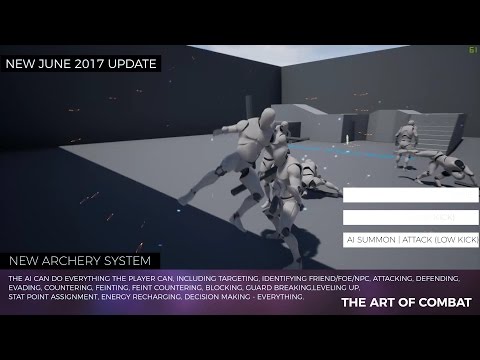 Hi everyone!
I am very pleased to announce that my combat system for my upcoming game, Adrayvia, has been accepted by Epic Games and is slated for release come March, 2016.
The Art of Combat is designed entirely in blueprints to be a plug and play solution for combat designers. Its features include attack systems with multiple chaining sequence types that accept several input types and special attacks, tracing components, parry and counter systems, damage dealing and receiving systems, feint system, two targeting systems - Lock on and APR, RPG elements, simple material instancing system, hit system, player control and AI control systems, perception systems, projectile systems, animation blueprints (default is the Epic Skeleton Rig), montage setups, 3D widgets, parent-child hierarchies, simple emitter system for notifies, and a game instance.
This is a quick summary of the the functions of the system:
Player Possession

AI Possession

Attack Systems

Defense Systems

Targeting Systems (Aggro-Perception-Range and Lock-On)

Iai system that handles Manual and Automatic Equip and Holster Systems

Damage Systems

Slomo Systems using Time Dilation

Camera shakes

Camera Zoom In and Out

RPG Elements - Health, Energy

Automatic Ready to Fight System based on Perceived Threats

Projectile Systems

HUD showing Health and Energy levels for the Player Character

3D Health Bar for the Player Opponent

Level Blueprint Actor for instant Initialization of AI Systems
Update For June 2017
New Blueprints and Improvements in the coming update:
New Complete Archery System (Ranger Class with the ability to use melee attacks as well as ranged attacks)
New Steam API Integration For Singleplayer/Multiplayer
New AI Personality Improvements (The AI is now even more intelligent, using a combination of certain variables and probability for Action Design like AI Aggression Level (Aggressive, Reactive, Passive), Preferred Hate Rank Level of Target (High, Mid, Low), Current Energy Checking Priority (Defines the probability of the AI to "want" to check its energy levels to make sure it has sufficient energy), Energy Refill Threshold (High, Mid, Low)
New Character Improvements (Gender Definition - This can have several applications from customizing characters' looks to their sound effects (it is already tied to the SFX sounds for damage receipt), New Graphs - AI Graph, Ranger Graph, Defense Graph (Parries, Parry Counters, Responsive Evade System, Feints, Feint Counters, Blocks and Guard Breaks), Attack Graphs (Quick, light, heavy attacks, Throw Projectiles), Movement Graph, Targeting Graph, Equipment Graph, Damage Graph, Hits Graph, RPG Graph, Attack Techniques Graph, Special Techniques Graph, SFX Graph
New Projectile Classes (One Parent and children for different kinds of projectile movements - linear, angular, etc)
New Projectile Deflection System (Built into the character and projectile blueprints, similar to Naruto Ultimate Ninja Storm's Kunai/Shuriken deflection system)
New Modular RPG Component (Contains code for very detailed and visually visible (in the UI) Regeneration and Draining of Stats, Level Ascension (by Experience Points), Class/Sin Assignment, Attributes that affect Stats like Vitality, Insight, Acuity, Strength, Precision etc, Stats that are affected by Atrributes like Health, Health Regen Rate, Energy, Physical Damage, Magic Damage, Melee/Ranged Accuracy etc, Stat Point Assignment (Auto/Manual Distribution of Stat Points For the player and AI), Modular Animation Montage Assignment, etc
New Game Mode Templates For Various Battle Scenarios (Survival, Versus)
New Multiplayer Multiplayer Lobby Template and Mode Templates For Online, LAN and Local Multiplayer gaming
New Animation Blueprint with several new notifies, new animation graph segments, more robust state machine for each class, new SFX Graph
New Announcer Blueprint and Announcer Sound Class
New Pickup Systems
New Special Technique Blueprints
New and Improved AI and Player Controller Blueprints
6 New Example Maps for the various game modes
Several New UI Widgets (Front End Menus and several Sub-Menus, In-game HUDs, Game Mode-Specific HUDs , Notification Interfaces, RPG Character Management (Stats, Equipment, AI, Overview))
New Render to 3D Blueprints
Revamped Character Blueprint (Now instead of having two character blueprints for the player and AI, all the code is handled in one character blueprint for player and AI control)
Improved Game Instance Blueprint
Improved Multiplayer Support (All the code has been optimized for better multiplayer networking bandwidth usage, and best practices for RPC are now in place)
Ready For Integration with other Marketplace Assets like the Footsteps Sounds Blueprints, Kubold Animations, Options Menu Kit…
And yes, unbelievably, still much more…
Get it now:[COLOR=#FFFF00]http://unrealengine.com/marketplace/the-art-of-combat[/COLOR]
Thank you!
Update!
Here are examples of The Art of Combat's use in games (Disclaimer: These are Adrayvia showcase videos, my personal game project, not showcases of The Art of Combat):