Introduction
Hello,
My name is Tom , I am an independent game developer/web developer from the Netherlands.
I am currently developing a game in Unreal Engine 4, this is my first ever game that I am aiming to release on PC, I would like your feedback & ideas for potential implementation in the game.
About the game
The name of the game
Subject A-119
The story of the game
The game is about Subject A-119(the player), it is the first successful experiment in a series of clones.
You wake up unintentionally and you don't know who, what or where you are.
Your goal find out what you are, you do this by wandering around the facility and solving numerous puzzles.
Trailer
https://youtube.com/watch?v=_wqOo8xaaug
Screenshots
[table="class: grid"]
Screenshots
Extra


 http://imgur.com/gallery/UqwZj 
I removed the laboratory


 http://imgur.com/gallery/2RDgw 
The green room has been made darker and the surroundings around the elevator are for testing the lighting


 http://imgur.com/gallery/0LrJ3qQ 



 http://imgur.com/gallery/Cr5J1th 



 http://imgur.com/gallery/hWxwDRC 



 http://imgur.com/gallery/RHYW6/ 



     http://imgur.com/gallery/GI2Wr 

Devlogs
This is the latest devlog: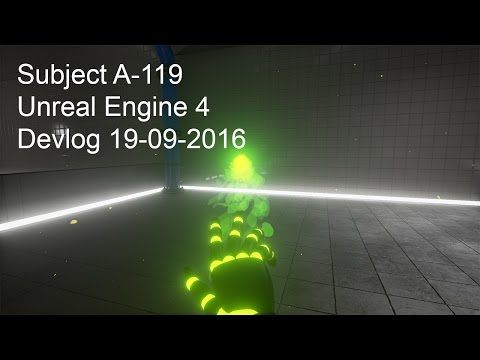 Here is a playlist with all of the devlogs:

Feedback
I appreciate all feedback you can give me about the game, that way I can improve the things people don't like and keep other elements that people do like the same.
Your input and ideas
If you think I should add something to the game, send me a message, who knows, your idea might be implemented in the game.
Contact information:
Portfolio website: http://heekdevelopment.com/
Twitter: http://twitter.com/mrgoatsy
Steam Greenlight:
The game has been Greenlit, check it out here:
Thank you for checking out this thread.