Hi everyone,
I have a bit of an issue with animation notifies within a state machine not triggering if there is a montage actively playing within the Blueprint. Here is my set-up: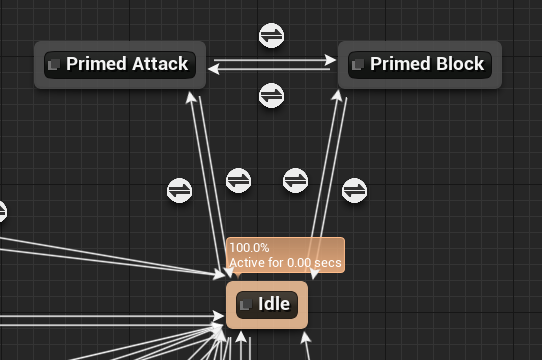 I have an animation notify on the "Primed Attack" node like so: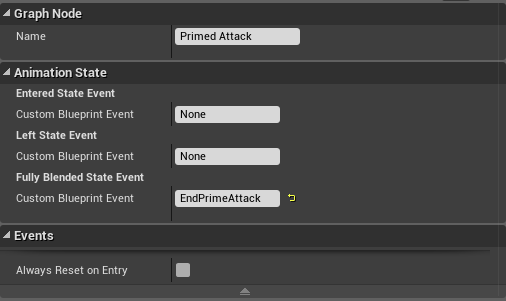 The idea is when a player wants to perform a melee attack, they click and hold the attack button. This then blends them into the "Primed Attack" node, which upon becoming fully blended will then flag them as able to launch their attack upon releasing the attack button. The EndPrimeAttack event just sets that flag. If the player releases the attack button before the state is fully blended, it will launch the attack as soon as the blend is finished.
In normal play, the system works perfectly. The issue I have is that if the animation blueprint is playing a montage (e.g. an idle animation or pain animation) then it messes with the blend. It appears as though it jumps instantly to the Primed Attack state, and because EndPrimeAttack is never triggered the player is stuck in the primed pose and cannot release their attack.
This seems to happen even if I interrupt the montage. For example, if the player clicks the attack button and holds it while an idle animation is playing, it instantly interrupts the montage and blends them in to the correct state. However, releasing the attack key does nothing and they're now stuck in the primed pose.
One option is to set an on blend out delegate to every montage checking to see if the player should be able to prime a melee attack, but that is going to be a real pain and I would rather avoid that if possible.
Note: I tried moving the event trigger to the transition itself, to the End Transition event, same problem occurs.
Any advice would be much appreciated! I'm sure I've just missed a magic checkbox somewhere…