Hello,
I would like to introduce you my new material/blueprint system that speeds ups preparing customized progress bars. My method allows achieving a large variety of cool effects without any 2d graphics skills.
First alpha version showcase in UE4: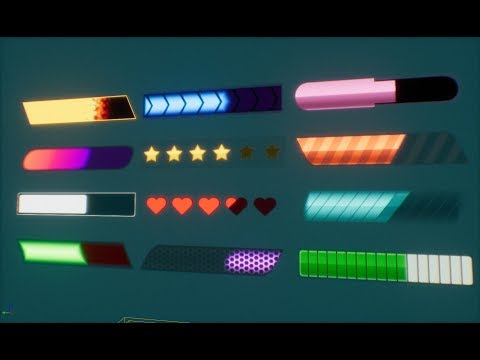 My proof of concept on Shadertoy:
**Current features: **
Signed distance functions based rendering (shape is generated from mathematical functions). 'Vectorized' graphics quality.
Configurable for all resolutions.
Configurable progress steps divisions.
Fully scalable and extendable for more shapes.
Not used any texture for final used but can be extended by textures.
GPU friendly, one draw call, fast loading, small memory usage (one material per bar)
Roadmap:
More shapes circle bar, triangle bar
Second progress color (especially for fighting games)
Glossy effect/Shadows etc.
Animated patterns
Replace SDF functions with external SDF textures.
It would be great to get some feedback from you.