Hi,
I`m Wei Bo the software engineer of Smartisan VR project.
I have developed the PerceptionNeuronPlugin for the motion capture device Perception Neuron from Noitom(https://neuronmocap.com/).
A few months ago when I tried to go looking for a useable Perception Neuron plugin, I did not find one that could properly and perfectly present the data captured by Perception Neuron, so I decided to develop a Unreal plugin of Perception Neuron.
At present, this plugin has been adopted by Noitom and began to apply in their products. In the upcoming GDC2016 Noitom will use this plugin to showcase the perfect combination between Perception Neuron and Unreal4.
PerceptionNeuronPlugin is develop totally in C++. It has high efficiency and easy operation. It is very convenient to use, you can even do not connect any blueprint or write C++ code to start to use it.
Features:
1. BVH asset. You can import a bvh file into Uneal4 now, PerceptionNeuronPlugin will create a uasset use the bvh file. You can use BVH asset to drive the actor and also control the speed of the animation throught BVH asset editor. BVH asset can be packaged into the resource pack automatically when package project.

2. Network. PerceptionNeuronPlugin support UDP protocol for bvh data transmission. Data transmission efficiency is very high.

3. Spawner. You can plant Spawners into the scene and you can also specify the direction of an actor's spawn .

4. Full support for Displacement.You can change the body height in Axis Neuron. The hight of the actor created in scene will be adapted to the actual height of the man who is wearing Perception Neuron.

5. Retargeting. You can drive any model that conforms to T-pose throught the retargeting editor in Animation BP editor.

6. Multiple server. PerceptionNeuronPlugin supports multiple server transmit bvh data to Unreal at the same time and one single server transmit bvh data of multiple roles to Unreal.

7. Cross-platform. PerceptionNeuronPlugin can be release for all platforms which Unreal4 supported.

Video: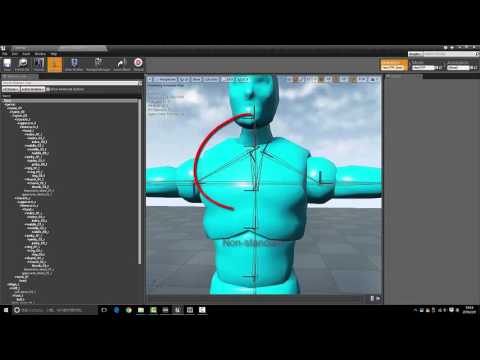 PerceptionNeuron Unreal4 plugin network demo - YouTube Test demo for network efficiency on Samsung S6.
GDC2016 Perception Neuron Unreal plugin 1 - YouTube GDC2016
GDC2016 Perception Neuron Unreal plugin 2 - YouTube GDC2016
Download:
SVN:
https://104.156.239.211/svn/PerceptionNeuronPluginForRelease/ Username:Everyone Password:123
Dropbox:
Dropbox - File Deleted
Requirements:
UnrealEngine 4.9~4.13
Axis Neuron 3.6.32 https://neuronmocap.com/
Support:
If you have any questions, comments, bug reports or feature requests for this plugin, contact me please: weiboreal@gmail.com.
I would like you to be here for feedback, because your feedback may be helpful to others or you can be able to get timely help from other people.
Thanks Wang Mi the Senior Developer of Epic Games for the technical support.

---
Hi all!
I'm back.
Since I am very busy recently, the source code of this project has been handed over to Noitom for the future development.
Noitom will release their official version of Perception Neurom Unreal4 plug-in.
They will put a lot of energy to do this. I believe they can do it better than me.
If you have any questions you can contact Noitom technical support:
contact@neuronmocap.com