Hi, so I made this thread in general discussion Level Design in UE4 is slow and tedious. - General Discussion - Unreal Engine Forums ] and it was suggested that I move it over here to feedback.
Basically my problem is this,other tools which I used to create levels, could create levels much faster and I have made levels in many editors, going back for almost 20 years. I am talking about creating levels similar to those we played in old-school games, I am not suggesting these bsp methods be used for large-scale modern games, I am a solo developer who wants to create an fps with levels and features similar to the older games.
I had a conversation with people in #unrealengine on irc about this and they said the main problem with bsp is that it all compiles into one single large static mesh and that is bad for a number of reasons, but generally being that it has to keep processing that static mesh as a whole, instead of only the local parts and calculate the collision for the entire thing in the same way. Obviously, all the benefits of breaking up a level into instance pieces are gone.
Two of the modern level editing programs that I find quite fast are:
Sauerbraten: Cube 2
TrenchBroom (new Quake editor)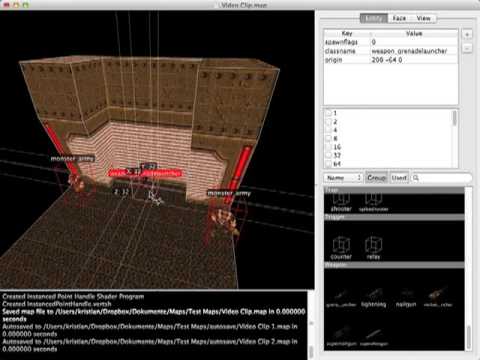 I've also heard unity has some features that are good for quick bsp to, that just makes static meshes.
After my conversation on #unrealdevelopment and after analyzing the level examples in the 'shooter game' i noticed that significant areas of the level had very large static meshes, where I was expecting it to be made of many smaller pieces.
Rama on the chat also suggested his plug in for vertex snapping: A new, community-hosted Unreal Engine Wiki - Announcements and Releases - Unreal Engine Forums
I decided to post this in the feedback section anyway, because i think it would be nice to have some greater support for bsp, for when it is used, like zoning or something like that to break the bsp into smaller chunks, as far as I can see, it still doesn't seem feasible for me to ensure everything is a static mesh, there would be small corners and floors and things, but I think its ok to have them as BSP as they where in UE3. I would like epic to put more more consideration for solo level designers and small teams.
Anyway, I'm not trying to spam here, I would've just moved the original thread if I knew how.