Introduction
Shortly after parking your van at the curb, your partner gets out and makes his way to the mansion up the hill. You fire up your Zeus 2000i and begin scanning the airwaves for the target AP. A slight grin begins to form at the corner of your mouth when your favorite three letters appear next to the SSID: "WEP".
A quick ping sweep returns over 30 different active clients but a dozen are all using 192.168.1.100 - 192.168.1.111 which all begin with the same MAC prefix licensed to Kinks Home Security. You target the first one with a port scan and find several ports open including TCP 22 and TCP 8443.
Attempting a connection to TCP 8443 returned an error with a helpful piece of information - Navajo 0.17.2a. A quick search through the exploit database returned multiple hits for Navajo web servers including an authentication bypass exploit for that release…
To be contined.
Feature Topic: Hacking Part 1
This will be the first of a multi-part series on Klepto's hacking gameplay. We will cover the in-game OS and other gameplay elements at a later date.
Dev Video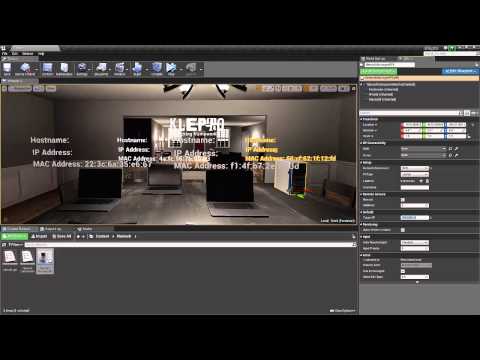 Overview
Hacking gameplay is unlocked when the player advances to The Professional skill tier. In addition to gameplay, several new high-tech upgrades are unlocked for the player's vehicle allowing them to eventually upgrade to a mobile command center.
Usage
Hacking will come into play for various reasons including bypassing security systems, overriding surveillance systems and hijacking home automation systems. Additionally, there will be multiple mission opportunities from Contacts that involve obtaining or planting files on target PCs.
Approach
We will not be masking a puzzle mini-game under the label of hacking but instead approaching it as a simulation with a few entertainment stretches. To do this, we are implementing both a network simulator and a simulated operating system inspired by Kali Linux.
Hacking in Klepto will follow the same five phased approach of the real world; Recon, Scan, Gain Access, Maintain Access, Clear Tracks.
Players will have the option of automated tools and scripts that are easy to use for new players but lack the speed and flexibility of the manual work. For the Interested players, an opportunity to dive deeper into the game mechanics to gain access to otherwise limited functionality will be available.
Network Simulator
We are simulating a variety of network functions to keep the gameplay realistic and dynamic. Watch this week's Dev Video for a closer look.