Hello everyone, this is an RPG Template that I'm releasing. This template will be updated frequently as long as there are items in the backlog. I will also be providing support. The project will be submitted to the Marketplace upon hitting v1.0.
The Sellfy link for purchase is here:
https://sellfy.com/p/NeVW/
Pricing is set at $79.99 until submission to Marketplace where the price will be set at $89.99
We offer an alternative revenue model where we take 1% of your revenue and the upfront cost is $9.99. Please contact me via PM for details on this revenue model.
Current Release Version: v1.0
Items Currently Available within the Template
Gameplay Features
-Status Effects
-Proper RPG Damaging
-Items and Inventory System
-Simple AI (With Class based Behavior)
-Quest System
-Localization Ready Dialogue System
-Status Effects
-Class System
-Ranged and Projectile Magic
-Action RPG and Turn-Based RPG Play Styles
-Save System
Widgets
-Dialogue Widget with (Yes/No) Multi-choice Selections, and Quest Information
-Controller Ready Buttons and Scroll Widget (Currently does not exist anywhere)
-Status Widget
-Floating Health-bar Widget
-Floating Damage Indicator Widget
-Floating Dialogue Indicator
-Quick Item Select Widget With Scrolling
-Quick Skill Select Widget With Scrolling
-Inventory Widget
-Menu Widget
Wishlist
Integration into CodeSpartan's MMORPG Template
Character Creation
If you have any other features you'd like me to add, reply and I'll see if I can add it.
What's Planned for next update Release planned sync: 8/29/2015 10PM PST
AI Ally and Enemy (Was initially in early release but currently broken due to a fundamental change in the main character class to make the blueprint cleaner, more optimized, and more aesthetically appealing)
Item Usage (Accidentally deleted in the RPG Template in the process of removing copyrighted materials and already remerged for the current version)
Dialogue System (Currently removed from project until I can make a video explaining how to use it)
Status Screen (Just a bit of work here to allow between switching between allied characters and making it more aesthetically appealing)
Item and Skill Widgets (Currently in progress due to a fundamental change in the main character class. Almost done with this though)
Inventory Widget (Need to change to make it both controller and keyboard friendly)
Floating widgets for both damage received by characters and floating health bars (Already have an iteration but need to adapt to the changes in the character blueprint)
Blueprint Save System
When is the next update?
August 28th, 2015
Q&A
Why was there such a big gap in updates?
There was a lot of work in the QA Process which had to be resolved. Thankfully everything is stable and operates how it should for almost everyone.
When is the C++ Code going to be added?
C++ Code will be added with v1.0. I'm planning on making it a plugin also for UE4.
How can I get a hold of the C++ Version? I need the optimization in my project.
Thanks to Epic changing their policy, I can create a plugin now for release on the marketplace.
When is x feature going to be supported?
All features slated for v1.0 have been finalized and completed. Any further features will have to wait for the next version.
What about Paper2D?
All classes in theory are compatible with Paper2D. I'm not an expert in creating sprites so I'm not including those.
What about Split Screen Multiplayer?
Split Screen Multiplayer works but it's not extensively tested. I hesitate to list it as an official feature until it's fully tested.
What about your Motion Captured Animations?
Due to current restrictions on the project from where this template came in the first place, I cannot include these animations until the current project is done.
I have an idea for a feature. Can you add it in?
Sure, just PM me with your idea and I'll add it to the backlog. Not all features will be in C++
日本語で質問すればいいのですか?日本語のサポートは?
はい、ぜひお願いします。日本語のサポートもあります。
Are you planning on submitting it for marketplace release?
Yeah, it will be submitted this Friday on the 29th of August. If you need it immediately you can purchase it from my storefront.
In honor of v1.0 being released I will be holding a Twitch Stream on Sunday August 30th at 7:30PM to give a quick overview of the RPG Framework along with answering questions. I hope to see everyone there!
UPDATE
I've gone ahead and uploaded the first video showing off the project. I'll be uploading a much longer video next week. I'm kind of short on time today, otherwise I would have shown off more of the template.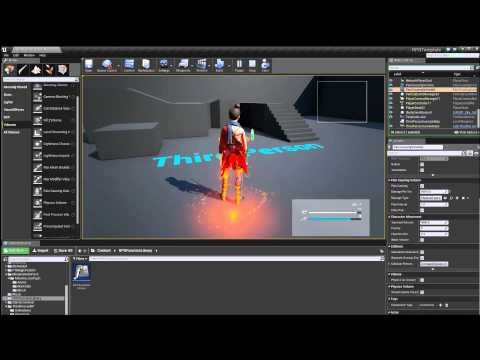 UPDATE 2
Sellfy Link is available.
UPDATE 3
If you plan on extending any of my Character blueprints in this project, please work off a child blueprint for the time being or duplicate the MyCharacterJill blueprint. This allows for you the merge the updates.
UPDATE 4
All buyers will get access to my git repository where they can get cutting edge updates outside of the master branch. Tutorial videos on how to use our framework will in both English and Japanese will also be provided for all buyers.