[TABLE="border: 0"]
B A D * M O R F O
		Multi-user Constructor for Everything: 			

Character Armor Sets
Masks
Creatures
Weapons
Melee Weapons
Vehicles/Crafts
Machines
Architecture
Structures
Props
Missions/Quest
		https://youtube.com/watch?v=PqF6JNLTWZU
	


		100% Bluerprints-based Multi-user Construction Framework for In-game Editor | Constructor | Builder | Customizer | Prefab Systems

B A D * M O R F O: Multi-user 3D Object HyperBasher ( Edit | Construct | Build | Customize | Prefab | Mod )
An in-game multi-user framework | template | subsystems | embeddable application to extend into various Editors, Constructors, Builders, Customizers, Prefabbers, Modders based on HyperBashing: Collaborative Realtime 3D Kitbash Methodology White Paper … The Universal Constructor!
Potential Use for BAD*MORFO?
We're developing this subsystem for [FONT=comic sans ms]GOD of DREAMS MMO FTPS/RPG Sandbox to support *3D HyperBashing *Philosophy (*Real-time Collaborative *KitBashing) empowering users the ability to collaboratively customize nearly every Entity in the "Dreamworlds" to enhance the social gaming experience.
We believe Hyperbashing will allow us to achieve functional Game World Simulation Interaction allowing different Game World simulations to merge content, game mechanics, players, etc.
BAD MORFO is a Glorious 3D Object Multi-user Placement Tool. Its core feature set is Mesh Object Spawn/Delete, Orientation, Material Parameter Adjustments, Server Save/Load. It provides Visual abstraction, so that developers can easily add their own logic that meets their specific needs. The core feature set enables collaborative construction at various design layers:
Designer
Level Building

Entity Variation Pre-fabrication: {Character Armor Sets, Masks/Helmets, Creatures, Firearm Weapons, Melee Weapons, Vehicles/Crafts, Machines, Props }
Game Administrator / Story Director

Story / Dialogue / Narration

Mission/Quest Building
Player

Customization

Structure Building
Add whether you think you need to or not… It's one BAD*MORFO! [TABLE="align: center, border: 0"]
M O R P H E U S (aka BAD*MORFO): Multi-user Construction for Everything. - YouTube Attachment
M O R P H E U S (aka BAD*MORFO): Multi-user Construction for Everything. - YouTube Highlighting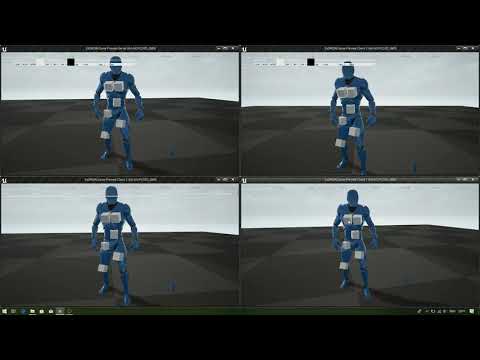 PBR Material Adjustment
M O R P H E U S (aka BAD*MORFO): Multi-user Construction for Everything! - YouTube Support
M O R P H E U S (aka BAD*MORFO): Multi-user Construction for Everything! - YouTube Copy
M O R P H E U S (aka BAD*MORFO): Multi-user Construction for Everything! - YouTube Transform
M O R P H E U S (aka BAD*MORFO): Multi-user Construction for Everything! - YouTube Editing
M O R P H E U S (aka BAD*MORFO): Multi-user Construction for Everything! - YouTube
M O R P H E U S (aka BAD*MORFO): Multi-user Construction for Everything! - YouTube Modifier Parameters
M O R P H E U S (aka BAD*MORFO): Multi-user Construction for Everything! - YouTube Operations
M O R P H E U S (aka BAD*MORFO): Multi-user Construction for Everything! - YouTube Symmetric Operations
[TABLE="border: 0, cellpadding: 0, width: 0"]
LIKE
This Post