I'm still trying to get wrinkle maps to work in UE4 using blueprint, but there isn't much information on this topic: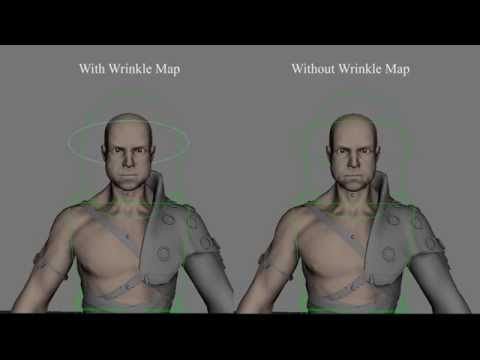 The above is the goal I want to achieve in UE4.
Based on the assets of Batman Arkham Knight, they use 3 normal maps (neutral, extending, contracting) This is the method I intend to use for my asset creation. But how do I get those assets working together in UE4?
And according to this Answershub reply:
https://answers.unrealengine.com/questions/186172/dynamic-normal-map-for-morph-target.html?sort=oldest#
They suggest using vertex colors to mask the blending between the different normal maps somehow, while a morph target drives it? What would this even look like in blue print?
Uncharted 4 also achieved this, for clothes and Nathan Drakes arms:
This is what they sculpted in Zbrush
And this is it in their engine:
Here are more references that illustrate what I'm trying to achieve:
The angle of the joints would blend the maps in for the area that's bending.
Leg(s) extended: folds and creases are added on the front of the knee(s)
Leg(s) contracted: front of the knee(s) are stretched smooth, and folds and creases are added behind the knee(s)
This image is pretty much what I'm trying to do, but would be achieved by blending between just 3 maps in and out:
See how the rotation of the shoulder changes the wrinkles and folds in his jacket.
Pretty much every joint would reveal a different area of the maps, which map it reveals would depend on the rotation. for example:
(any axis)
rotation 0 = neutral map
rotation + = contraction map
rotation - = extension map
So…can anyone show me some UE4 examples?