Correction:
The First Person Shooter Tutorial is the fabulous handiwork of Epic Dev Lauren Ridge!
Thanks Lauren!

Rama
[FONT=Comic Sans MS]Featured Tutorial
Print Messages to yourself during runtime!
I would like to thank JohnFlux for adding the section for on-screen debugging, I used it myself recently when logs and clientmessaging where both not options but I still had access to GEngine

Rama
[FONT=Comic Sans MS]800+ Line Complete HUD Sample Class
Complete Sample HUD Class, Tooltips, Custom Cursor, Transparent HUD Elements, DrawMaterial, Buttons!
A new, community-hosted Unreal Engine Wiki - Announcements and Releases - Unreal Engine Forums,Create_Buttons%26_Draw_Materials
Rama
Thanks Rama !
The Entry Level Guide to UE4 C++ ( https://wiki.unrealengine.com/Entry_Level_Guide_to_UE4_C%2B%2B ) is a godsend.
I have been programming (or you could say scripting) for 15 years but never learned C++. I was fairly comfortable with Unrealscript but the switch to C++ has been a nightmare for me. Lost at the first step. This entry level guide was a great way to learn how to reference and point to instantiate a memory optimised reference to code. Something I have done a million times yet never in C++.
The wiki is now a staple of my favourites. Thanks again !
Yay! I am glad you enjoy my UE4 C++ Intro tutorial!
I tried to be really creative with that one!

Rama
[FONT=Comic Sans MS]Multi-Threading Wiki Tutorial
My new Wiki tutorial on Multi-threading!
I am happy to announce I figured out how to use the UE4 Task Graph System to do multi-threading!

**Video: First 50,000 Prime Numbers Being Calculated...

   While Game Thread Continues!**

Here's a video of my game calculating the first 50,000 prime numbers while I continue to play around in the main game thread!

!

:)

I am sending myself feedback on the main thread as each prime number gets calculated in the other threads, could be turned into a fully operational incremental progress meter!


https://youtube.com/watch?v=cgELOodtoSU


Comparing Results
You can compare my in-game computed results displayed in the player console to this web page of the first 50,000 prime numbers!
http://www.cs.arizona.edu/icon/oddsends/primes.htm
Rama
[FONT=Comic Sans MS]Actual Multi Threading for Large Tasks
This is a tutorial on creating actual new threads that will run until they are requested to stop!
To put this in perspective, the entire Render Thread is one such thread, as I am showing you how to create below!
I had great performance gains from creating an actual thread to compute the first 50,000 prime numbers. My fps stayed at solid 90 (my personal chosen max) the whole time!
bump Multi threading 4 you!
[FONT=Comic Sans MS]Yay for Multi-Threading!!!
My new Wiki tutorial on Multi-threading!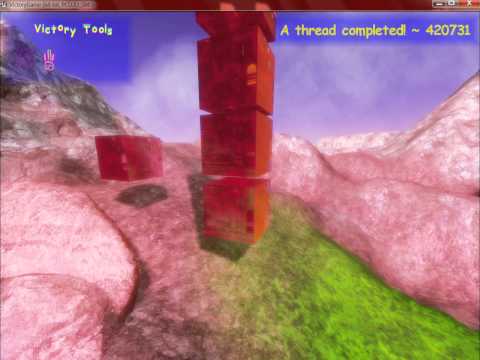 Rama
[FONT=Comic Sans MS]Entry Level Guide to C++
Rama
Just awesome, I will definitely dive into this. Thank you!
You're welcome!

Rama
Rama, I feel like it would be a crime to follow your tutorials without coming here and thanking you!
Great job, this is exactly what was needed for a lot of the UE4 adopters. Keep up the incredible work!
Hee hee!
Thanks for your message!

Rama
[FONT=Comic Sans MS]New Solus Project Tutorial
Get All Supported Screen Resolutions
Full source code for getting a list of all screen resolutions supported on the End User's Computer:
Great work. I love these Solus tutorials! It's all very applicable and useful for so many types of games.