I've seen some people asking around the forum on how to do "real" bullets.
Not the projectile from the 1st person example, and not the instant hit linetrace from the multiplayer shooter example, but "real" bullets with travel time and bullet drop.
So, I've gone ahead and made that.
So far, it is just the bullet travel, the drop and some drag applied to the bullet in flight.
The drop is fairly accurate compared to real life, but the drag is a rough calculation for now, a flat 20% drag pr. second.

The slight drop over time. Bullets fired straight up will come straight down again.

The bullet Blueprint right now.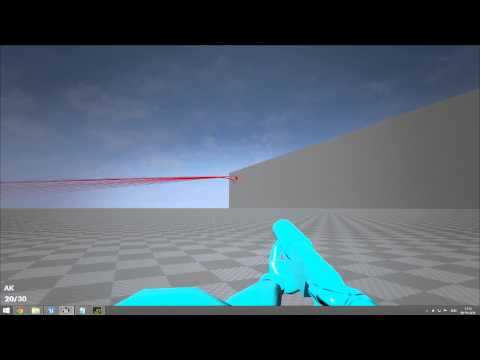 Short demonstration of the current system.
Things I would like to add:
Wind effect applied to bullets to make longer shots harder.
S-Curve assets for drag.
A shooting range to test your weapons.
Slow motion shots
Recoil(not just animation)
If you like this project, please voice your support for it in the marketplace, I have a link for it below.
https://forums.unrealengine.com/showthread.php?47541-Better-Blueprint-Bullets