Greetings everyone! I recently released my Visual Novel Framework on the marketplace. I've been making visual novels in UE4 for about 2 years now, so this is a comprehensive system designed to handle large branching scripts and detailed character sprites with multiple layers and costume changes.
Here's the marketplace link: Visual Novel Framework - Full System in Blueprints - UE Marketplace
Here's the trailer: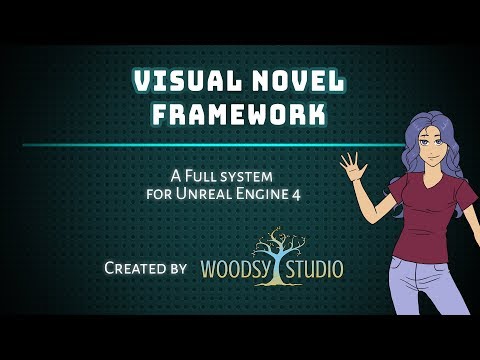 Here's a breakdown of the main included features:
Flexible scene system using datatables
Includes instructions of how to convert your external scripts into usable .csv files
Ability to branch scenes based on conditions
Voice acting can easily be inserted into scenes as Sound Cues
Characters can spawn in 3D space OR display in a UMG widget
Complex, flexible choice system
Automatically tracks and saves player choices
Supports cycling choices so player can see more than one option
Supports nested choices (a choice within a choice!)
Characters can contain several layers for dynamic use (hair, mouth, clothes, etc.)
Change character costumes and hair as story progresses
Saving and Loading system
Animated blinking and mouth movement (even in UMG widgets!)
Auto Mode
Supports skipping or rolling back through text
Allows you to easily add dynamic camera angles to your scenes, such as character closeups
Includes a basic menu system with gamepad functionality
Options for text speed, text size, and audio levels
Change levels and sublevels between scenes
Full Gallery system to display CG illustrations and unlock them as player progresses
Persistent data that can be used for CGs and more
The documentation is here: http://woodsy-studio.com/visual-novel-framework-for-ue4/ including a few video tutorials to help you get started. I will make more video tutorials and add to the documentation as questions arise. I hope you all enjoy this framework, and I'll answer questions as often as I can!
I may not check the forums too often, so if needed, you can email me through this contact page: Contact - Woodsy Studio