Project Title:
United Zombies (UZ) (Title and Logo are temporary)
This 1st post page will be UPDATED Sometimes !
Description:
Oh yeah… Again another Zombie Game… But why !??
The main differences are small inovations and an optimized gameplay to make it the most fun as possible.
Also we will try to correct the frustrating failures included in games like Day Z or H1Z1 (check the comments on Steam you will understand)
The concept is inspired by TV shows like:
The Walking Dead
Z-Nation
Etc …
And inspired by games like:
Day Z
H1Z1
Left 4 Dead
Rust
The Forest
Etc …
The Game in summary
United Zombies is a Online Persistent Open World Zombies Horror Survival Game
This is not yet the end of the world but the zombies are spreading in your region and you must stop them at all costs and survive the chaos…
Zombies population grows every hour.
They appear randomly in the rural areas in small quantities.
They appear in large quantities in the villages because they are attracted by the smell of humans.
To survive humans needs to hunt, find natural medicines, etc … in the rural areas.
The most interesting items are in the villages that are infested with a large number of zombies. mutual assistance is needed to succeed in obtaining these items.
If a human is bitten or scratched by a zombie, he get sick and a countdown force to heal as quickly as possible
or become a zombie and will in turn attack other humans for a while.
If the human suffered of several bites, he will become more quickly a zombie.
If the zombies population exceeds a certain threshold, the neighbor gouvenement will appreciate a powerful bomb and destroy all the area.
The zombies counter will be reset and all players will lose all their equipment.
Incidentally, the players who will be better equipped will be displayed in the list of the most wanted persons and manhunts will be organized.
**Here a little part of the GDD Draft ** (sorry for the faults and spellings)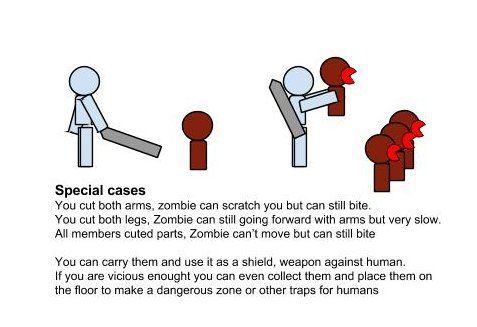 Includes:
3rd person gameplay
1st person gameplay optimized for VR
Nervous and well thinked fights system with various possibilities
Persistent Open World that keep states, exemple you chop a tree this tree will gone for ever if there is not the bomb reset.
Some purposes similar as the Battle Royal mixed with the survival mode.
Strategical features
More to come… (ideas in mind for exemple, Customizable Mad Max Cars Style, zombie animals, etc…)
Team Name:
Shin-Kaneda Team
Team Structure**:**
Essentially
My self as Project Manager and the Blueprint Lead developper
and some team mates of the Shin Kaneda Team
More informations at https://forums.unrealengine.com/showthread.php?70519-Build-a-TEAM-for-SWORDS-ARENA-Multiplayer-Project
Previous Work:
Still in progress the SWA Project
https://forums.unrealengine.com/showthread.php?70519-Build-a-TEAM-for-SWORDS-ARENA-Multiplayer-Project
We Recruit:
3D Artists

3D Prop Artists (Weapons, various equipement objetcs, etc…)

3D Character Artist (player characters, clothes, zombies, etc…)

3D Rigger (player characters, clothes, zombies, etc…)

3D Animators (Zombies, etc…)

Game Level Designer (Procedural placements)

Others Skills can be welcome, contact me then we discuss about it.
Important ! Before you apply !:
Royalties are based on the integrated elements to the game with a ceiling of 50% regardless of the skills in order to have a balanced sharing between members.
You are agree to participate financially to purchase some MarketPlace Packs and the rent 1st Hosting Server,
we share the expenses together and it help to involve team members because they invest into the project as well.
How and Why this project ?:
Most of gamers like us like to play online with friends to have fun but sometimes we get frustrated by failures.
So we want to prevent that and make a really fun game and make gamers involved and have a good experience.
This is also financially interesting, exemple with H1Z1 with many extentions that are all sold even the game is still an Alpha !
https://steamdb.info/search/?a=app&q=H1Z1
For the main game H1Z1, the base price is around 20$ and they got +2,455,449 owners, we are talking about 49 108 980$ ! (without expenses and tax)
Similar results for extentions !
So why not us ?
Also the Virtual Reality is being strongly grow and we want to be ones of the first on the market.
The main plan is to develop the game in early access soon as possible and add new features and perfect it with time.
This project can be done fast and well done because we dont have the same constraints as the SWA Project and we got nearly 1 year of experience
with testing and find the best workflow with SWA Project, so we are experimented.
Project Status:
Allready done !
Network system is working, just some adjustments to do with new features.
The procedural map with 2 marketplace packs+1 landscape tool
Day and night feature from the MarketPlace Pack.
Weather Pack from Market place ready to be added.
Character moving, running, equip/unequip riffle/gun, boxing, all are with mocap packs
Healt, thirsty, hunger, temperature, endurance bars are quickly designed and functional
Even it's a prototype, the game allready look beautyfull and fast with no bugs !
Now working on the inventory system…
Contact:
Answer to this post or PM Sayato on this Forum. (i prefer posts because the mail box get quickly full)