TopDown RPG Template
Top Down RPG Template is finally released ! Get it now on the marketplace : https://www.unrealengine.com/marketp…n-rpg-template
[UE4] Top-Down RPG Template Presentation v1.1 - YouTube [HR][/HR]Project documentation](TopDownRPGTemplate)
[SIZE=16px]Project Roadmap](Trello)
DISCORD](Wolflow's UE4 products)[/SIZE]
[HR][/HR]
Hello everyone

!
This asset is meant to give you a good foundation to implement your own Diablo-like games.
I made efforts to make the features as modular as possible (Everything is implemented in Actor components).
Everything has been designed to work for both singleplayer and multiplayer.
Most of the features are "data driven" which means that you only need to modify values inside a DataTable to create your own content. [HR][/HR]
here is a list of all the fonctionnalities :
**Player stats : **

There are multiple stats for the player : Resistances (Everything which "counter" damages : physical, fire, ice,…), Attributs (Strenght, Dexterity, …) and states ( tooglable "modifiers" which influences the player : Rooted, Invincibility, Silenced,… )

XP and leveling :

Also handled inside the StatsComponent. You gain a certain amount of XP when you kill an enemy and each time you gain one level you unlock points that you can spend to unlock Skills and Skill Sets

**Player skills : **

There are two kinds of skills :
[LIST]
The ones which allow you to unlock passive modifiers which will influence player stats,

The ones which will unlock spells for the player

All skills are data driven : You can add a new skill by simply writing on a Data table

Skills Are grouped inside Skill Sets. You can unlock multiple skill sets.

A skill tree is automatically built in the UI, based on the skills dependencies.
**Spells : **
Spells inherits from a base Spell class. Their are not Data driven so you canwhat you what you whant for them.
Spells will consume stamina
Spells have options to be launched on self, or on a specific target
**Equipment : **
An equipment panel allows you to equip weapons and armors to the player.
Each equipment can modify player's stats when equiped (A "fire armor" could give you fire resistance)
**Weapons and Damage system : **
Weapons can be "One Hand" or "Two hand" and you can force player to equip them on left hand (Bow,…)
The damage system take "Damage types" into account these damage types are linked to resistance (For example, Fire resistance will reduce Fire damage, …)
**Effect Handling : **
You can apply effects through the EffectHandler component. There are two kinds of effects :

State modifier effects : Will modify player stats when applied

Damage effects : Will damage the player (immediatly or over time)
**Items handling : **
Inventory : You can attach an Inventory component to the player. The content of this inventory can be displayed on UI. Things like item split, stacking and right contextual click menu for items are implemented
Item in world : 3D representation of items once they are dropped in the world.
Chest : Stores items. The chest owns an Inventory component. In multiplayer, only one player can check chest content at a time.
Item bag : Item bag are like chest but they can be automatically created when dropping items (for items which doesn't have 3D representation) and they automatically desapear when they are empty.
Loot chest : An actor which will spawn loots around it when you interact with it.
**Basic enemy AI : **
Enemies will detect the player and will chase it
**Main menu : **
A main menu is implemented. You can create a new hero, select a hero, and choose between single player game or multiplayer game. (Note : I haven't implement setting panel)
**Traveling system : **
Go through gates to travel from one level to another.
**Save/Load system : **
Save player location by activating fountains
Save and Load of player is implemented (Saved : Inventory, Equipment, Skills, Stats, player location)
[/LIST][HR][/HR]
**Videos : **
Presentation :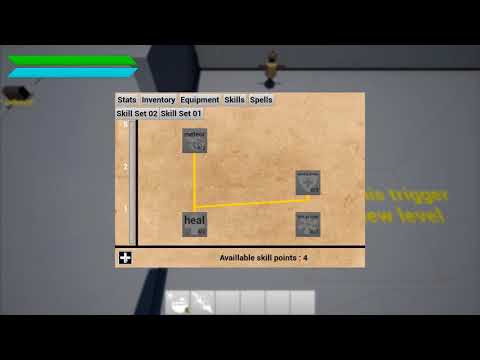 **Gameplay : **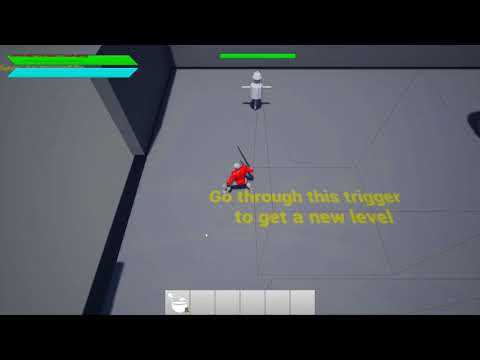 Menus and Save/Load system :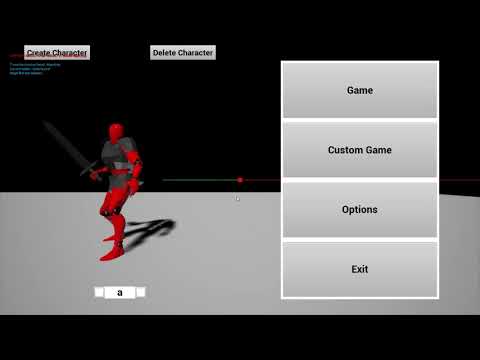 **Multiplayer : **
[UE4] [WIP] TopDownRPGTemplate - multiplayer - YouTube [HR][/HR]
**Updates : **
Featured in 1.1 :
Add feedback display for damages
Move all the travel functionalities into a separate ActorComponent
Move all the player Save/Load functionalities into a separate ActorComponent
StatsComponent handle the regeneration of health/stamina over time
Lot of improvements and bug fixes. [HR][/HR]
Don't hesitate to give me your feedback