The Top Down Stealth Toolkit is a pure blueprint framework that enables quick & easy creation of stealth games from a top-down perspective.
Marketplace Product Page: https://www.unrealengine.com/marketp…tealth-toolkit
Features:
• Top-Down Camera perspective.
• A custom-built AI Perception system tailored specifically for developing Stealth games enable the AI agents to perceive stimuli through four different types of perception models: Visual, Aural, Intuitive, & Motion perception.
• A Stimulus generation system that will enable the users to easily customize & add new types of perceivable events for the AI agents.
• Patrol Guards that can respond to a wide variety of stimuli including the player character, incapacitated teammates, alarms, footstep & gunshot noises, & more.
• Automated security devices like Cameras, Motion Sensors, Laser Security Systems, & Turrets function provide auxiliary support systems to assist the Patrol Guards & provide additional layers of challenge to the player.
• Use Whistle, Gadgets, Suit Abilities, & Weapons to distract or disable AI Bots.
• A Global Alert Level system that controls the activation of automated security devices like lasers & turrets, as well as the deployment of reinforcement patrol guards.
• A Mission Stats Display system that tracks & updates high score information for every level.
Technical Details:
• Modular components are employed throughout the toolkit to handle special functionalities & aid in the creation of new variations to existing entities with minimal coupling.
• The Global Alert Level system controls the Global Alert Meter by employing event dispatchers to continuously listen in new stimuli being perceived by AI agents across the level.
• The AI Surveillance Controller directs the activation of all AI agents within the level. This system can be leveraged to create different starting conditions for each level, choosing to activate all security measures by default or have them activated in a modular fashion based on the overall threat perceived by the AI.
• The AI Sensory Manager continuously evaluates all stimuli against various agents & assigns new objectives to the AI agents based on the results.
• The Patrol Guard AI uses Behavior Trees to respond to the various objectives assigned by the AI Sensory Manager.
Current Product Version: 3.3
Optimized for: Unreal Engine v4.26
Intended Platform: Windows
Gameplay demo of the v3.1 edition of Top Down Stealth Toolkit (Windows): https://www.dropbox.com/s/45rpdhu5qp…itv3.1.7z?dl=0
Preview Videos:
Top Down Stealth Toolkit v2.0 Features Preview: Stimulus Classes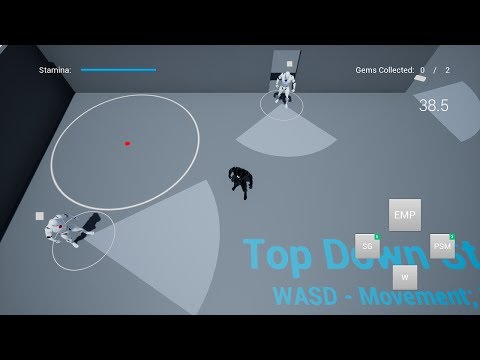 Top Down Stealth Toolkit v1.0 Preview: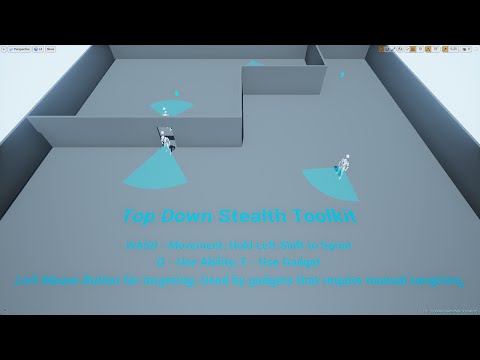 If you have any doubts or queries regarding the toolkit, you can always reach out to me personally through my marketplace support email.