Tech Tree Editor plugin is released!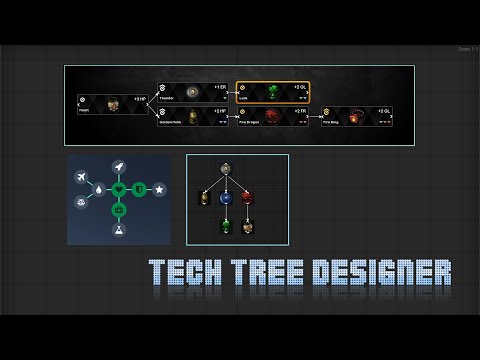 I am working on Tech Tree Editor extension which allows to define both Visuals (layout) and Logic (graph nodes). Creating Skill / Technology trees, never was simpler, everything is in just one place!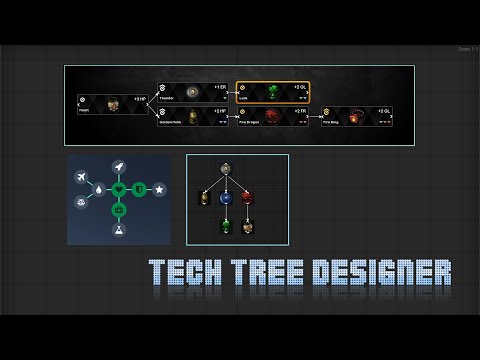 Plugin is ready (submitted to the marketplace), you can grab it already here:
https://sellfy.com/p/cc8j8j/
Horizontal Tree Example:
Nodes with yellow outline are selected (default UE4 selection) - allows you to modify properties
Vertical Tree Example:
Light blue boundaries line shows how much area is reserved for a widget, can be modified
Custom Tree Example (center):
UMG preview (in game):
**Additional Editor properties:
**
Custom Tree Asset:
Designing in editor:
there is only one place do define your graph with visuals, nodes arrangements and connections
it uses the same Blueprint Graph Editor already known
provides snapping, so nodes can be easily moved around, being well positioned
every graph node is using separate UserWidget provides maximum flexibility
fully customizable - nodes widgets, lines, colors, background, thickness, arrows
Preview as all other widgets:
creates UWidget which can be placed wherever you want in UMG with TechTree asset assigned
automatically updates UMG to provide final look of the widget
this widget is used for run-time purposes so you can modify it even further to fit your needs
In Game
provided look is exactly the same like Editor designed graph
every node asset has unique technology associated, can be easily modified
every function you need to work with tech / skill trees is exposed to blueprints
saved / loaded with UE4 serialization without problems
Goal references:
Civ - https://i.pinimg.com/originals/a5/7b…c4e4fce91f.jpg
Poe - https://poeplanner.com/
Black Desert online - https://www.onrpg.com/wp-content/upl…tSkillTree.jpg
Other - https://i.redd.it/x67mrcy96f721.png
Please guys let me know **what do you think? **If you have any **requests **and if you are going to find this plugin useful!