Greetings, fellow Earthlings
While space games have seen a resurgence recently, with big titles like Elite: Dangerous and Star Citizen, there is still a lack of good old RTS's and thoughtful space games in general.
This is what our team plans to fix with Starfall Tactics - a real-time wargame that mixes tactical combat with in-depth spaceship customization.
Description
In a decaying, war-torn galaxy dominated by three rival factions, assemble your own spaceship flotilla and lead it into battle. Adapt to new challenges by customizing and decking out your ships. Evolve your tactics by unlocking new parts and finding rare ship modules. Dominate the battlefield and create a name for yourself among the stars.
Latest Video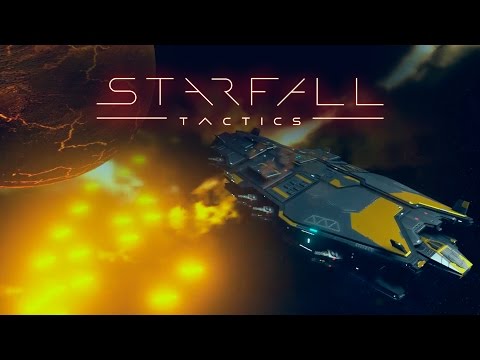 Features
Tactical combat
Fight your battles using a variety of ships - from subtle frigates, to deadly cruisers and heavy dreadnoughts. However, a reliable fleet isn't the only ingredient for success.
Effective commanders will have to rely on their ability to properly assess the situation, taking into account many factors, such as the equipment of enemy ships, the surrounding environment and the available technology.
In-depth customization
Everything in Starfall Tactics, from the hull of your ship down to the individual engines, is created using blueprints (not the UE4 kind :P). Players can easily customize and outfit ships, adapting their tactics for a variety of situations. Every choice matters - the diverse range of tools directly influences your strategy against opponents and allows you to create truly unique fleets.
Galaxy Conquest [WIP]
After familiarizing themselves with Starfall Tactics, players gain access to the Galactic Map, a persistent section of the game world where they can freely travel and explore the confines of known space.
There is a variety of activities to undertake, from fending off pirates to carrying out missions given out by your faction, as well as fighting other players for territory.
Screenshots
Team
We are Snowforged Entertainment - a team of hardcore gamers and developers from Siberia. Run by a tight crew of brown bears and one human, we strive to create games that combine hardcore, nostalgia-fueled gameplay with contemporary game design principles and appealing aesthetics.
Follow us
Visit the official site: http://www.starfalltactics.com/
Like us on Facebook: https://www.facebook.com/starfalltactics
Follow us on Twitter: https://twitter.com/starfalltactics