Synopsis
Luminous Sky lets the player take his place amongst the captains of the most powerful war machines in the universe, fighting for the prosperity of the Luminous Empire.
[HR][/HR]
Background
The Luminous Empire is gigantic, encompassing millions of stars, making it impossible to rule more than a few core worlds. To enforce law and justice across the universe, the privilege to rule is sold to the the highest bidder.The contractor is allowed to adopt and enforce laws in his fiefdom as long as he is paying his lord the lease he promised. A whole new economy arose, allowing corporations to buy authority and rule supreme. While this system allows the empire to persist it is the seed of immeasurable degrees of corruption and tyranny in worlds too remote to be overseen by the central authorities.
The obligation to pay for the right to rule is a constant threat to peace. Thousands of conflicts arise every year and end regularly with the devastation of defenseless worlds which are becoming pawns in the hands of ruthless corporations clinging to their sovereignty.
To shield the core worlds from the shadows of war the imperial high command maintains a fleet of powerful warships able to counter possible insurgencies within sight. Minimal influence over the authorities of remote sectors is obtained by a small number of independent space ship captains in the service of the high command who act as spies, messengers and executioners. While bound by oaths of loyalty these captains themself frequently become subdued by the promises of wealth and power from corporate operatives creating a labyrinth of intrigues and conspiracies trapping honest and rogue captains alike.
[HR][/HR]
Planned Features
Luminous Sky offers strategic combat between space ships of enormous size and power.
Assume the role of the captain of one of those powerful vessels and test your skill and cunning against the rest of the universe.
Each ship features unique attributes and most importantly: a unique weapon layout.
The same ship with a different weapons can enable completely different tactics just as the same weapons on a different ship would.
Choose between heavily armored battleships firing in all directions and agile light cruisers avoiding enemy fire while exploiting the enemy's weak spots.
Buy new weapons, improve your ship's systems and build the most powerful war machine in the universe.
Hire a skilled crew and improve your crew members' abilities from fight to fight.
Adapt: a seemingly impossible encounter might simply require a different strategy.
Position your ship perfectly in space. A weapon not pointing towards the enemy is a useless weapon.
[HR][/HR]
Progress
The current version includes the following features:
Randomized asteroids.
User interface for controlling space ships.
Space ship navigation.
Primitive AI for testing purposes.
Automatically tracking turrets.
Effects for turrets and projectiles.
Almost finished first space ship model.
[HR][/HR]
Most recent video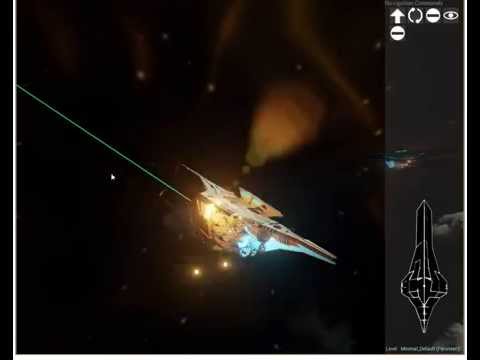 [HR][/HR]
Screenshots


[HR][/HR]
Release
maybe
[HR][/HR]
[HR][/HR]
The original first post (video removed):
Hi,
I started working on my first project a few weeks ago. To get some feedback and keep motivated I want to present my progress in this thread. As the forum category suggests everything, including the title are 'work in progress' and will probably change at some point.
The game I am working on is heavily inspired by the combat mechanics of Eve Online. I always liked the feature of controlling huge space ships via mouse clicks and indirect orders like 'move there' and 'orbit that' instead of using a joystick or something like that. I simply cannot imagine anyone would controll a gigantic, futuristic space ship directly.
What I missed in Eve Online was that the actual weapon layout did not matter. You always had two turrets visible on your ship for every turret equipped and one of them always had a line of sight to the target. I am trying to do that a little bit differently. I plan to give every weapon turret its own micro AI that tries to track the targeted ship. That way the orientation of the player ship itself and the positioning of the weapons on the ship hull will be key to successfully fight off the enemy ships.
Because game developement is obviously very complex and it is easy to get lost on the way I will try to take very small steps that include an update of this post. Every post will include a short overview over the next step I will take.
Step 1: Ship Navigation
The first step was to create a basic system for moving space ships and to create a basic user interface. The interface is again inspired by Eve Online and includes giving commands via mouse buttons, context menus and a side bar.
The movement system is a combination of the 'movement component' for translation and rigid body physics for rational movement.
I hope the following video gives you an idea what is possible right now:
( There was a video here)
The icon in the bottom right corner will be used to give feedback on the ship's systems like shield, armor etc. I will also include small icons for every turret that show whether the turret has a line of sight and if not, how the ship must roll to get that turret into fire position. Those features are however planned for a later step.
Step 2: Roadmap
The next step will be:
to set up weapon modules for space ships and line of sight testing.
2. to add controlls for controlling the 'roll' of the ship to optimally position the turrets in space.
3. to add a very basic AI that tells hostile ships to orbit the player ship.
So much for the first post. I would be grateful for any feedback.