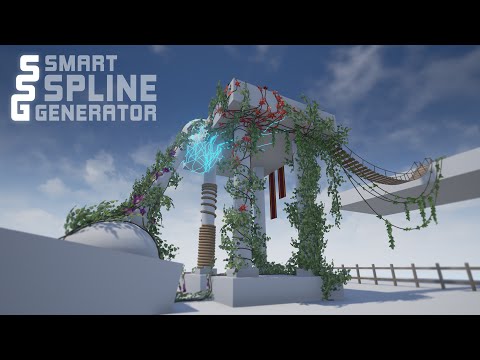 This tool allows to generate various assets that automatically align/react to any surface, in highly customizable way. Create ivy, vine, ropes, bridges, fences and more – with many customizable parameters & possibility to use your own meshes.
• Fast and easy generation of surface-aligning assets
• Many parameters for controlling generation behavior, all described in their tooltips and in documentation levels. Spline direction, sub-spline amount, spline/sub-spline length, curve, mesh amount, align rotation, height above ground, random irregularity levels and many more…
• Automatic bridge mechanic: Automatically finds nearby surfaces to make bridges with. Allows to control bridge gravity and more (presented in the video)
• Low-poly edge snapping: Allows to generate lower-poly assets without problems caused by low poly count near surface edges (presented in the video)
• Automatic spline mesh optimization – replaces most of spline mesh sections with low-poly versions, leaving only critical areas like edges or corners
• In-engine documentation: All the features explained on working examples in demo levels
• Possibility to use your own meshes
• Set of starting presets included
• With help of UE Merge tool, you can convert any generated asset into static mesh, to reuse it in different levels/projects – or to export & edit it in your 3D package!
• Made 100% in Blueprints.
• … Works also in 2D projects! : http://imgur.com/a/gixYa
Support: contact@unknown-origins.com