Hello, Unreal Community!
I am Thokash, creator of the RTS Toolkit.
I began a second project back in June - the RPG Template. Between then and now I have mainly focused on the inventory system and I ended up having a lot of fun designing it! You can check out my original post here: https://forums.unrealengine.com/showthread.php?72843-RPG-Template
For those of you who have used the RTS Toolkit, you have seen that it serves as both a template and a learning tool. In the RTS Toolkit, the learning focused on an intro to blueprints and interfaces. The RPG Inventory System is very similar in that it will be both a template for an inventory system and a learning tool. Unlike the RTS Toolkit, this project will focus on an intro to UI, Structs, and Enums and how they can all work together!
The inventory system itself is very similar to what you'd see in an RPG like the Witcher, Mass Effect, or Dragon Age. In fact, the inspiration for the layout came from my favorite game of all time KotOR.
Just for clarification, when I say inventory system, I really mean everything you would expect from an inventory system in an RPG. This includes:
Inventory UI
Pause menu
Loot screens for lootable objects
On-screen prompts for looting and other functions
Interactive loot buttons with item thumbnail
Customizable item descriptions and stats displayed within the inventory
Items
Entirely customizable items
Variables for item mesh, thumbnail, name, item stats, item description, item weight, and much more
Item rarity tiers from common to legendary (customizable stat in the item)
Item types which currently include materials, weapons, armor, gold, usables (health potions, mana potions, etc.), quest items
4 helmet meshes, 4 sword meshes
Stackable items
Player modifiers on armor/weapons that, when equipped, increase character stats like strength or total health (customizable stat in item)
Usable items such as health potion or mana potion that, when used, heal/restore character stats over time
Ability to quickslot usable items to the HUD
Lootable Objects
Lootable objects with exposed variables for customization
Random loot generation based on customizable drop tier settings (RNG, basically)
Customizable mesh (just about everything here has an exposed variable for customizable mesh)
Important Player Features
Health, mana, and stamina bars each with regeneration functions
Character portrait (the sad smiley face in the videos/screenshots
Character stats including health, mana, stamina, strength, intelligence, dexterity, carry weight, gold count
Other Essential Inventory Functions
Ability to break down most items into materials
Ability to drop items
Dropped items spawn a dropped item in the world that can then be looted
Stackables can be split when dropped
Items like armor and weapons can be equipped
If you have any questions feel free to contact me! I will be submitting this to the Marketplace this week for review!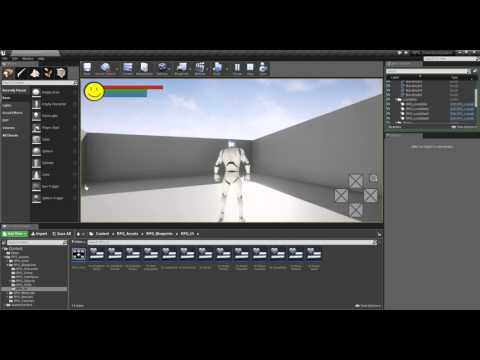 Thank you!