Hello there,
I am relatively new to Unreal, and definitely a complete newbie when it comes to Blender. I've been playing around with Mixamo animations for past few days, trying to add a Root Bone to them, consuming lots of videos and possible solutions on daily basis. I prefer to learn how things actually work instead of using addons/plugins to get something to work, and when I finally got most of it to work, I've experienced an issue that no matter what I do I can't find a workaround for.
I have a skeleton which was created from Mixamo's T-Pose base, whose Armature was renamed to Root in Blender. It was then exported to FBX and imported to UE4.
After skeleton was done, I've tried importing animations into blender, adding Root Bones to them in Blender, and then importing that .FBX to UE4. Both of these things were done with the help of this tutorial: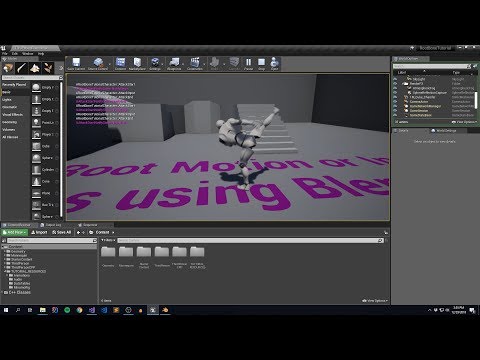 The only step that I had to skip in this tutorial (and I'm not sure how important it is regarding the issue), is the 20:30 mark, "Fix BHV Axis…" because that plugin does not exist anymore.
In preview everything looks smooth, animation is positioned correctly, there are no visible issues, however, as soon as I enable Root Motion, my mesh rotates 90 degrees and faces the Z axis, with its back on the ground and the Roll animation still playing.
Here are some screenshots showing my setup in both Blender and UE4:

Any help would be greatly appreciated.