Rome for Unreal is an expansive, truly AAA quality environment pack series that utilizes current-day game industry 3D art techniques to deliver unparalleled quality for your projects.
Marketplace Link | Playable Demo | Screenshots| Video Tutorials
Here is what you can look forward to:
Extensive Modularity; walls, doors, roofs, stairs… Use the prefabricated architecture and facades to develop your vision, or construct a custom building piece-by-piece.
Everything placed via blueprints with intelligent options! No need to dig through the content browser and mesh folder.
Special Materials: wetness, stains, and even decal materials. All effects can be painted with vertex colors. Parallax Occlusion materials too.
Opaque mesh decals with paintable opacity, stains, and even puddle depth.
No Photo-sourced Textures: Rome is built using the cleanest, sharpest material data possible via custom Substance Designer and Substance Painter workflows. No more blurry, high contrast, photo-sourced images that are double compressed and sent through a destructive image process.
Artifact-free Normal Mapped Objects: Enjoy beautiful props with clean, custom normal maps from high poly sculpts.
Huge Library of Props: Roman pottery, bowls, barrels, blacksmith tools, and so much more.
Area-weighted Normals: get the smoothest geometry and lighting by modified vertex normals.
Sensible Geometry Detail: all objects are modeled with next-gen in mind, but with LODS and a sensible triangle count for desktop and console GPUs.
Demo Scene: Of course!
Unparalled Support: Got issues? Need some help? Shoot me an email or leave a comment.
Technical Details:
55 PBR materials
170+ architectural pieces to create your own building from scratch via Blueprint
Use just a few Blueprints to construct entire buildings
Selection of beautifully unwrapped, normal-mapped props with soft edges.
Area-weighted normals for scene geometry
Variable triangle count between simple walls to elegant props.
Paintable decals further increase the detail
Demo Scene FlyThrough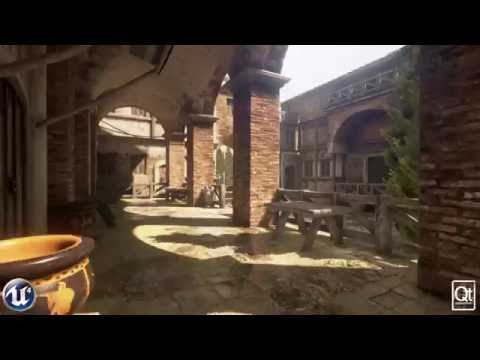 Screenshots
More screenshots on the webpage or the Marketplace link!
If you like what you see, please like and comment on the videos. Also, if you decide to purchase Rome, please consider providing a rating and review in the Marketplaceafter you've dug in to it. Reviews are a great way to let customers know what you think and gives them confidence in their purchase! And it is a huge help to publishers like me who do this full time.
Have questions? Feel free to ask any questions in this thread and I'll get back to you asap. This thread will be the official UE4 development blog of the project! Follow it to stay up to date on screenshots, news, videos, and release information!
Marketplace Link | Playable Demo | Screenshots| Video Tutorials
Thanks for all your support!
-pete