Links:
Store: Marketplace Link | Itch.io
**Media: Tutorials & Preview
Download: Demo Project
PRO MAIN MENU PACK by Piontek**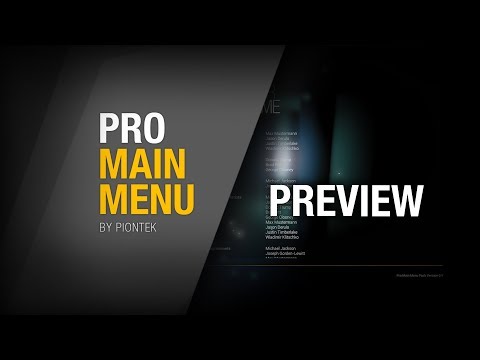 DESCRIPTION
This Main Menu is inspired by different Menus, i.e. Star Wars Battlefront II. You will get a full modern designed main menu prepared for an extensive single player setting.
The menu gives you a level selection, simple save system, credits and a settings menu withfully working graphic and audio settings.
Most elements get their color information from a Base Color which is customizable in the HUD Class, together with many other parameters like opacity,
font styles & sizes, button names and more. Also the main menu has a Live-Background which you can customise with your Assets.
If you miss any tutorial in the Training Video-Playlist, please contact me: marketplace@dominikgeuer.com
TECHNICAL DETAILS
Features
All-In-One Widget for the Base Main Menu.
Customizable Parameters like Basecolor, Opacity & more which affects most elements.
Main menu, pause menu, level selection, new game, settings, credits
Save Systems:
Basic gameplay save system (location, map name & more)
Settings save system (general settings, audio settings, graphic settings)
Level Selection:
Customizable with Functions/Events (take a look for tutorials)
Settings Menu:
General Settings (a widget with different button types, text boxes, sliders and more. You have to customize this menu)
Display and graphic settings
Audio volumes and different audio output settings
Audio and general settings are saved to save games and loaded in the game instance
Number of Blueprint Classes: 7
Number of Master Materials: 1
Number of Particles: 1
Number of Textures: 68
Number of Widgets: 25
Number of Soundcues: 4
Supported Development Platforms: Windows, Mac
Supported Target Build Platforms: Windows, Mac
Support email: [EMAIL="marketplace@dominikgeuer.com"]marketplace@dominikgeuer.com
If you have any questions, please let me know.
Best Regards,
Dominik