Free on the Marketplace
Supported by the Epic MegaGrants Program!
I present you a Code Plugin for UE4, inspired by Epic's ArchVisCharacter. Contains six C++ classes, and an example map with blueprints. This plugin provides a Character, a third-person camera, a PhysicsVolume, and a Projectile that support any gravity direction determined by ten different modes.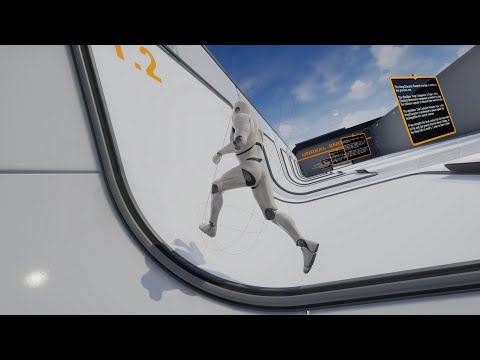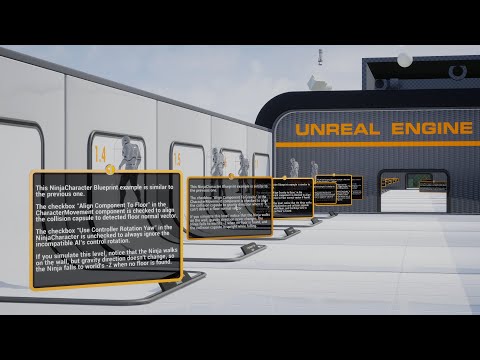 This project started (2014) as a CharacterMovementComponent subclass with support for arbitrary orientations. After Epic's explicit interest on integrating this in the base engine, it evolved in a series of GitHub pull requests that improved the base CharacterMovementComponent, but never got any gravity-related improvements in.
This plugin completely supersedes other plugins that use my outdated and unpolished code that I shared with everyone for older versions of Unreal Engine.
Unsupported features include AI with navigation mesh based walking, and cloth geometry simulation.
Features:
Character with support for any orientation and gravity direction.
PlayerCameraManager that handles any arbitrary Character orientation.
PhysicsVolume that overrides gravity direction for overlapping Actors.
Projectile that follows gravity direction.
10 modes that determine direction of gravity, zero gravity supported too.
Additional cheats to draw debug info.
How to use:
Make sure you already have created a game project.
Player controls are only handled by the example Character Blueprint, and require input bindings.
Open the example level to learn how to use the new classes added by the plugin.
Install the plugin to the engine.
a. Open Epic Games launcher
b. Click on "Unreal Engine" section
c. Click on "Library" tab
d. Under "Vault" sub-section, search for "Ninja Character Plugin"
e. Click "Install to Engine"
f. Choose engine version and wait for installation

Enable the plugin in your game project.
a. Open project with editor
b. Edit > Plugins
c. Search for "Ninja Character"
d. Mark "Enabled" checkbox
e. Restart editor

In Content Browser, mark "Show Engine Content" and "Show Plugin Content" checkboxes in "View Options"

Add new input bindings (optional).
a. Outside the editor, go to your project's root folder
b. Open "Config" folder
c. Backup "DefaultInput.ini" file (if it exists)
d. In the editor, Edit > Project Settings
e. Click on "Input" section below big "Engine" word
f. Under "Bindings" sub-section:
Add "Jump" to "Action Mappings", assign a key/button
Add "MoveForward" to "Axis Mappings", assign keys or joystick axis
Add "MoveRight" to "Axis Mappings", assign keys or joystick axis
Add "Turn" to "Axis Mappings", assign mouse axis
Add "LookUp" to "Axis Mappings", assign mouse axis
Add "TurnRate" to "Axis Mappings", assign joystick axis
Add "LookUpRate" to "Axis Mappings", assign joystick axis
Open the example level (optional).
a. In Content Browser, choose the "NinjaCharacter Content" path/folder
b. NinjaCharacter > Maps
c. Double click on "NinjaCharacterExampleMap"
d. Play the level (input bindings required), or simulate the level (ALT+S)

Open any level of your game project.

If you DON'T have your own Character Blueprint:
a. In Content Browser, choose the "NinjaCharacter Content" path/folder
b. NinjaCharacter > Blueprints
c. Right click on "NinjaPlayerCharacter_BP"
d. Asset Actions > Migrate…
e. Click on "OK" button
f. Choose your project's Content folder

If you have your own Character Blueprint:
a. In Content Browser, search your own Character Blueprint
b. Open it
c. File > Reparent Blueprint
d. Choose "NinjaCharacter"
e. In Content Browser, choose the "NinjaCharacter Content" path/folder
f. NinjaCharacter > Blueprints
g. Double click on "NinjaPlayerCharacter_BP"
h. Click on "Event Graph" tab
i. Copy nodes and connections you need (for player input) to your own Character Blueprint
j. In "Components" panel, select "NinjaPlayerCharacter_BP(self)"
k. Copy the changed settings you need to your own Character Blueprint
l. In "Components" panel, select "CharacterMovement (Inherited)"
m. Copy the changed settings you need to your own Character Blueprint

If you DON'T have your own PlayerController Blueprint:
a. In Content Browser, click on "Add New" button
b. Select "Blueprint Class"
c. Click on "Player Controller" button
d. Name it, open it
e. Change the "Player Camera Manager Class" setting to "NinjaPlayerCameraManager"

If you have your own PlayerController Blueprint:
a. In Content Browser, search your own PlayerController Blueprint
b. Open it
c. Change the "Player Camera Manager Class" setting to "NinjaPlayerCameraManager"

If you DON'T have your own GameModeBase Blueprint:
a. In Content Browser, click on "Add New" button
b. Select "Blueprint Class"
c. Click on "Game Mode Base" button
d. Name it, open it
e. Change the "Player Controller Class" setting to the PlayerController Blueprint
f. Change the "Default Pawn Class" setting to the Character Blueprint

If you have your own GameModeBase Blueprint:
a. In Content Browser, search your own GameModeBase Blueprint
b. Open it
c. Verify the "Player Controller Class" setting uses your own PlayerController Blueprint
d. Verify the "Default Pawn Class" setting uses your own Character Blueprint

In your level, Window > World Settings

In "World Settings" panel, change the "GameMode Override" setting to your own GameModeBase Blueprint

Play your level