First of all i am looking for Engineering artists, and second i am thinking on investing money in who can create a plugin or support Epic in their development on the tools i will describe. Also i ask everyone who wants these Movie based tools (Alembic 3d video plugin & Stereoscopic video player for in VR) to invest, mayby we can kickstart some plugins!
Artists in the past had control over their material, well i make paintings and drawings myself and work with game mechanics which is the most forward artist tool for telling story's. Strange enough as an artist i have lost control over my material, when using UE4 i need the Visual environment and help from Engineers for the coding, i don't write code and i don't have the time for that part. Please read further; Right now i am working on the concept for an movie project for in VR, i will skip the story here but wil explain and ask for what i need. This movie will be a mixture between game & movie techniques in VR. i have so far used Q3d Video Recorder and created 3d video files which i wanted to use, see the video below, it might not be perfect yet but for some movie scenes it gives freedom to move the camera which is powerfull, movie images are still more powerfull then meshes because they represent images which are most close to our reality. Next i want to use stereoscopic video camera's, like in the Insurgent experience by *Kite & Lightning * for steady high quality movie recordings for steady camera shots.
And here i need support from Engineers, or someone who can build two plugins for UE4. I hope to fastforward the development on these tools which i need for my project.
1, Plugin for 3d video recordings, specially for moving camera shots;
From the Q3d Video Recorder i used the output files are; .q3d & .r3d I did read that these files must be easy to make usable for in UE4. So if someone can do this let me know!
https://forums.oculus.com/viewtopic.php?t=14622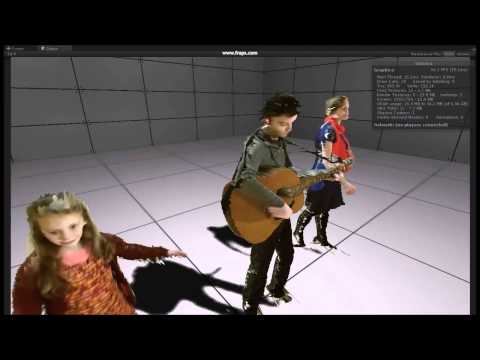 2 Plugin for double camera stereoscopic movie recording to UE4, like in Insurgent, specially for steady camera shots & high quality images.
See the Insurgent Movie trailer by Kite & Lightning
Goal is to make these tools available so that artists can create high quality Movies within the UE4 environment. I hope to find smart minds for this job, thanks for reading, for mayby giving talented artists the tools they need so hard. Below two images of an drawing i made, me standing in a landscape between dark and light. Charcoal on paper 2015, 365x127 cm.
Above detail of drawing see image below for full artwork.
Charcoal on paper 2015, 365x127 cm