Haha, idk about that. Maybe someday though. I never like to write things off entirely. =P
Hey everyone!
It's been a while since I last posted here as can be seen above. Almost a 2 year break from the marketplace actually. I am happy to announce I have returned to continue work on my asset collection!
While I have still been hard at work on my game Simulacrum, I have been able to carve out time to devote towards completing the work I began years ago.
To start off, I will be revisiting the Engineer Collection. Currently consisting of 3 products that you can acquire for free as part of the Epic Marketplace Sponsorship, going forward I will be providing a whole host of assets of distinguishing varieties to fully flesh out the collection and allow users to be able to construct complex and highly detailed environments with the level of customization these assets have become known for.
I am really excited to get back to work on these, and can't wait to share all of the designs and packs in store. To start off here are a few concept blockouts for one of the upcoming packs.
Some of the new things coming in this pack are new doorways, double doors, and more architectural assets to help you create larger hallways and rooms. As always these are designed to work with other packs within the collection. If you haven't already, be sure to pickup the first 3 products in the Engineer Collection for free!
Keep a close eye on this thread and on twitter as I will be sharing work in progress images throughout development as always. =)
And as always, if you have something you'd like to see within a particular collection feel free to keep the suggestions coming!
YAAAASSSS!! I am so glad that you're back! I was hoping you'd start on Polaris, but I'll that Engineer. Anything from you is better than nothing.
Can't wait to see the finished product.
Thanks man!
No reason to write off Polaris just yet. We'll see what the future holds.

Make it awesome as usual, can't wait to see you polish up the scene
Thanks for the support Raven! I'll do my best. =)
Progressing through the texturing phase. UV mapping is always the highlight of architectural modeling. xD
Only a handful of assets left now. The new door/doorways and alternate floor along with a few others.
Finally got the glass in along with the new doorway. Ended up attaching some of the Engineer Hallway assets to it to demonstrate how they connect.
Here are some alternate floor assets. =)
Should be able to submit the product to the marketplace this week. =)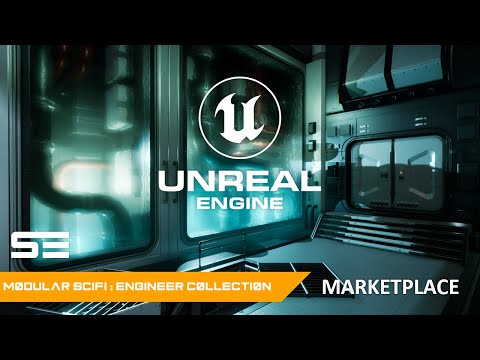 Happy to announce that the Modular SciFi Engineer Hallways Volume 2 is now available on the UE4 Marketplace!
Check out the screens on Artstation!
Get it now on the UE4 Marketplace!
Engineer Hallways Vol. 2 Is now on sale through August 3rd!
Check it out HERE!