Hey, I love to present Editor extension for UE4 with custom nodes where in the very easy way Missions (Quests) and respective objectives can be defined.
LATEST UPDATE 4.25 (lifetime support)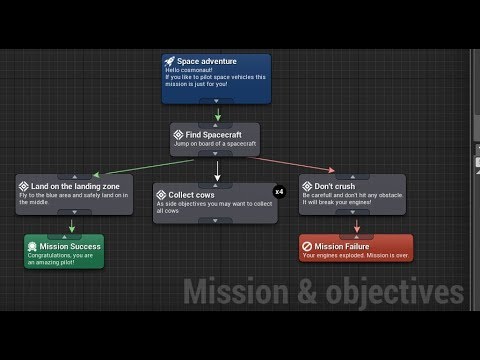 Marketplace link: https://www.unrealengine.com/marketp…ion-objectives
Documentation: https://docs.google.com/document/d/1…LW6hOH7hsyBxOY
Discord support: TefelDev
Example project: https://drive.google.com/open?id=10R…XtzAsnm93rsITI
There are many features which plugin currently supports:
Multiple simultaneous missions running and being picked from the pool.
Negative objectives leading to mission failure
Positive objective leading to missions successful
Side tasks which may trigger some special rewards and conditions
Switching between missions
Completing objectives from ongoing Missions
Many systems of prompts, previews, notifications
Missions selection and log
Multiplayer support
Dialogues and narrative (sounds)
Different visuals for node paths - successful, neutral and negative
As you can see on the picture above there are multiple (so far five) different widgets communicating with the mission and objective system. They listen to special prepared events.
Savegame system fully supports Mission & Objectives
[ATTACH=JSON]{"data-align":"none","data-size":"custom","data-tempid":"temp_188152_1586419478774_333","height":"311","title":"image_147876.jpg","width":"600"}[/ATTACH]
UPDATES:
fixed issue when shipping for 4.20
added missions main menu with selection
added savegame system