**Miami Villa Modular Environment Set
by the
****SwordFox Workshop
**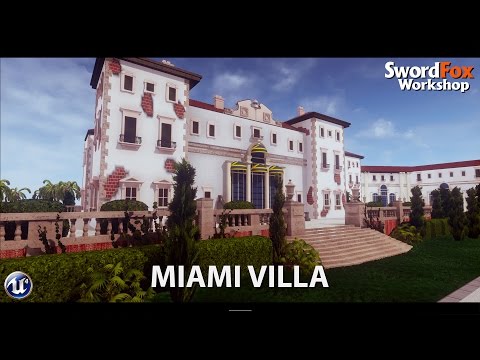 &stc=1&d=1491115485
&stc=1&d=1491115491
&stc=1&d=1491115501
&stc=1&d=1491115505
&stc=1&d=1491115509
&stc=1&d=1491115513
&stc=1&d=1491115525
&stc=1&d=1491115529
&stc=1&d=1491115534
&stc=1&d=1491115538
**
Project Description:
An environment of a luxury waterfront Miami Villa modular building set included with Substances & Speedtree assets.
**
[FONT=&amp]Every part of this environment is modular and you get even more than what you see. All of the assets are included so that you can modify any of the substance files to create any custom textures similar to the base one. The Speedtree file are also included so you can re-design a variety of the vegetation files all you want if you have a Speetree subscription.
[FONT=&amp]
**
Price: $39.99
**[FONT=&amp]**Documentation Download: **MiamiVilla_PDF_Manual.pdf[FONT=&amp]
[FONT=&amp]
[FONT=&amp]What's included:
1.) Unreal Engine 4 Package (Files that come with the scene to be used in UE4)
2.) Source Files (All Source files (FBX, Substances, Speedtrees))
**
[FONT=&amp]FBX FILES**
[FONT=&amp]Included is all of the FBX files there so if you have a need to
change or customize the meshes with a 3D software.
[FONT=&amp]SUBSTANCE DESIGNER SUBSTANCES
Automatically change and modify the included substances in
this pack there are 25 substances.
[FONT=&amp]To get substance designer to be able to edit and change
the substances go to https://www.allegorithmic.com/
To edit these .sbs files you need to know a little about
Substance Designer. They range from mildly complex to
simple PBR textures. All flexible to resize to any resolution.
These materials are a great asset for any artist and could
be very useful and can be used for any commercial projects.
[FONT=&amp]SPEEDTREE VEGETATION
All of the vegetation in this pack were made in speedtree
To get Speetree for Unreal to be able to edit and change
these go to http://www.speedtree.com/ue4/subscription.php
A Subscription is not required to use these as is in the
Unreal Engine, but if you want to edit them or create
something new from them as a base or learning exercise,
you will need the speetree subscription.
Unreal Assets:
[FONT=&amp]4 Full Buildings and 2 platforms
[FONT=&amp]– 25 Building Meshes: (10 Prefabs)
• 2 Corner meshes
• 3 Entrance meshes
• 1 Column
• 1 Corner Quoin
• 4 Wall meshes
• 1 Top Deco
• 1 Front Windows
• 1 Chimney
• 3 Roof meshes
• 1 Window Shade
• 6 Window meshes
[FONT=&amp]– 16 Small House Meshes: (6 Prefabs)
• 1 Small Ground Wall
• 1 Arch
• 2 Banister sets
• 1 Big Wall
• 1 Corner Quoin
• 1 Front Door
• 1 Garage Door
• 1 Pillar
• 1 Pillar and Banister
• 2 Roof meshes
• 1 Post
• 1 Window
• 1 Small Wall
• 1 Small Wall Detailed
[FONT=&amp]– 20 Ground Meshes: (16 Prefabs)
• 9 Banister meshes
• 1 Ground Floor mesh
• 1 Fountain mesh
• 3 Ground Hedge meshes
• 1 Seawall mesh
• 2 Stair meshes
• 1 Walking path mesh
• 1 Water mesh
• 1 Water Pond
[FONT=&amp]MATERIALS
53 Materials:
• 13 Tillable materials for building meshes
• 13 materials for ground meshes or some for building meshes
• 26 Vegetation materials
• 1 Decal material
(Included are 8 substance materials with special capabilities)
– One Plaster and Brick material vertex paintable
– One Water animated material
– Two Stone (Light and Dark) materials with custom substance
Parameters editing capabilities
– Four materials have random seeds from substance for
more material variation.
[FONT=&amp]TREES
– 14 Vegetation Meshes:
• 1 Ivy meshes
• 5 Grass meshes
• 3 Italian Cypress meshes
• 3 Palm Tree meshes
• 1 Tropical Bush mesh
Technical Details:
• (PBR) Physically-Based Rendering: Yes
• Texture Sizes:
– 4096×4096: 12
– 2048×2048: 68
– 10X24x1024: 34
– 512×512: 2
– 256×256: 3
– 2048×4096: 2
– 1024×2048: 4
– 976×1024: 2
• Collision: Yes – Automatically Generated
• Vertex Count: 2,078,097
• LODs: None
• Number of Meshes: 74
• Number of Materials 53
• Number of Textures: 127
• Engine Compatibility: 4.14.3
• Intended Platform: Windows PC
• Platforms Tested: Windows PC
• Documentation Included: Yes
[FONT=&amp]
Support:
Have questions, or need to email us about this product? Contact Us
Thanks,
The SwordFoxWorkshop Team
[FONT=&amp]