[Originally had this thread posted in the VR dev section, but since this project has evolved, migrated it over here and deleted old thread]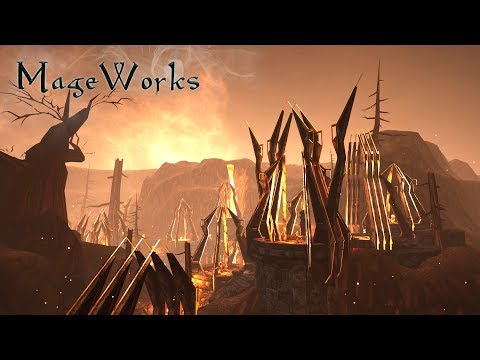 MageWorks is VR game designed for use with Vive and Touch, and as a casual exploration and crafting game. The premise of the game is satirical in nature putting the player in the position of a mage going through magic school, and ultimately the player will need to complete quests and find loot to pay off their magic school debt.
In MageWorks, players have a spellbook in one hand and a staff in the other. The spellbook can be exchanged with other books in their library, and each page has a different spell to cast. There is also a bookmarking system that allows players to bookmark their favorite spells, which then show up in their custom book. This will allow players to customize a book specifically for the type of quest they want to go on.
http://i.imgur.com/NiwiLnv.gif[/img [img]http://i.imgur.com/a2DRhAs.gif
Staves are also customizable. I'm currently in the process of building a crafting system that allows players to manually create their staves. This involves collecting resources like crystals found deep into mining caves, or collected wood and flowers from a forest. Crystals can be shaped and are used on the end of staves. Flowers can be milled to create ink used for drawing designs. Wood is collected and shaped in different ways to create the main part of the staff.
The game is currently available in early access, however is due for full release mid-2017.
More information available at:
http://store.steampowered.com/app/494780
http://www.earthborninteractive.com/mageworks
http://www.indiedb.com/games/mageworks
MageWorks is now available on Oculus Touch!
https://www.oculus.com/experiences/rift/1127921550614118/