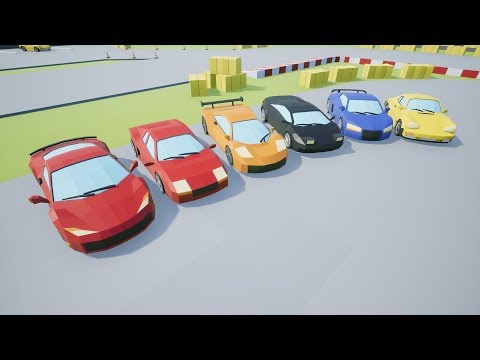 NOW AVAILABLE!!!
DESCRIPTION
With the content of these assets made with a lowpoly style you can drive 6** different vehicles** in your video game. In addition, different textures have been included to create 36 variations. But all the cars were being textured in order to create your own textures and changing the image so you can achieve your range of colors of your project.
Also, includes a demonstration circuit and props (trees, cones and blocks of straw) to test the vehicles.
Vehicle pack features:
Drivable Vehicles: all vehicles are drivable (keyboard or gamepad) and you can test it in the demonstration map.
Smooth Camera Follow: all vehicles include a smooth camera behind the car.
With the Unreal Engine Wheeled Vehicle, you can configure:
Tire friction.
Suspension (damping ratio, natural frequency, etc.).
Engine setup (RPM, torque curve, etc.).
Front drive, Rear drive or Four wheels traction.
Transmission setup (automatic/manual, gear switch time, gear ratio, etc.).
Steering curve.
Max brake and handbrake torque.
TECHNICAL DETAILS
Input Mappings:
Go to "Project Settings" menu of your project. Then, in the "Input" section, add these Input Mappings: MoveForward, **MoveRight **and Handbrake. Check the attached images that you'll find in this asset to copy the detailed configuration of these Input Mappings.
Demonstraton circuit:
This pack includes a demonstration circuit to test the vehicles.
Press "C" key to change the camera between the vehicle camera and the parking camera.
Press "V" key to change between the different vehicles.
If you want to add a vehicle to the demonstration map, drag & drop the vehicle from folder "Vehicles/Blueprints" to the scene and finally add the item in the VehicleList variable from the Level Blueprint.
Meshes: 6 items
#] Object Type
[6] Vehicles
Maps: 2 maps
[1] Overview Map
[1] Demonstration Map
Polycounts:
Vehicle9_1: 3122
Vehicle9_2: 2818
Vehicle9_3: 2958
Vehicle9_4: 2666
Vehicle9_5: 3082
Vehicle9_6: 3179
Engine Version: 4.15 or higher
Platform: Windows, MAC
LODs: 0
Number of Meshes: 6 items
Collision: Yes (custom)
Network Replicated: No
Number of Master Materials: 36 materials
Number of Variations: 36 items
Number of Textures: 36 textures
**SCREENSHOTS
**
More screenshots: Low Poly Vehicles Sports Pack 9 in Props - UE Marketplace
I hope you like it!