Project Title:
Elemental Combat
Description:
Elemental Combat is a fast-paced, competitive Virtual Reality game that blends the speed and intensity of an FPS with martial arts and RPG elements. Use your hands to let fire fall from the sky or raise mighty walls of earth in VR. Customize your avatar and take the fight online!
We went viral 4 times - e.g. Our Viral Reddit Post (very early) or lately: https://9gag.com/gag/aWq1qpK !!! Join us and release together with us one of the most anticipated VR games!
Current state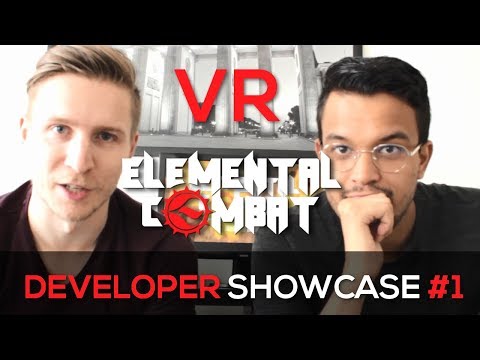 Steam Page:

Includes:
Take Control of the Elements - Fire, Earth, Air and Water in Virtual Reality!
Cross platform Multiplayer Fights - Battle in addictive 1vs1 duels to see who is the better elemental combatant on the Oculus Rift and HTC Vive
RPG Elements - Level up your character and learn new and powerful elemental abilities
Singeplayer - Fight against the A.I. and train your strategies and tactics
Ranking - Climb up the competitive latter and become the best elemental master
Team Name:
AVRLON VR Studio
Name of your team/company:
AVRLON VR Studio
Team Structure:
David
CEO & Co-Founder
Former manager at Goodgame Studios working on Empire: Four Kingdoms
Marcelo Carvalho
COO & Co-Founder
Founded his first company with 22, former manager at Goodgame Studios working on Goodgame Empire
Thiago Junqueira
CTO & Co-Founder
PhD in Astrophysics, developed his own games before.
5 more awesome people including writer, 2 sound designers and 1 programmer - in total we are 8. The headquarter is in Berlin, with other people being spread around the world.
Who is currently part of the team, how long they've been there, what they do.
We are working on Elemental Combat since November 2017. It was founded by David, Marcelo and Thiago and the other members joined a few months after. Our plan is to release the game in the end of 2017 for Early Access.
Previous Work:
First VR Title
List of previous projects by the team as a whole, by you or other team members of note.
Goodgame Empire, Empire: Four Kingdoms, League of Legends
Talent Required:
3D Artist
Experience with UE4
Design Focus
Experience with Particle System
Expected to create an artistic vision for the game. (at the moment its all patched together)
Expected to take ownership of all the visual art of the game
Expected to create additional effects for the attacks and defenses of the game - with a look at performance, which is crucial in VR
VR experience
You will take ownership of the whole art and can freely decide your own work. We can talk about revenue share and even equity if you are interested in staying with us for the long-term.
Write us an email and we can have a chat if we fit together!
Website:
www.elementalcombat.com
Link to your website, if applicable.
www.avrlon.com
Contact:
E-mail: [EMAIL="contact@avrlon.com"]contact@avrlon.com