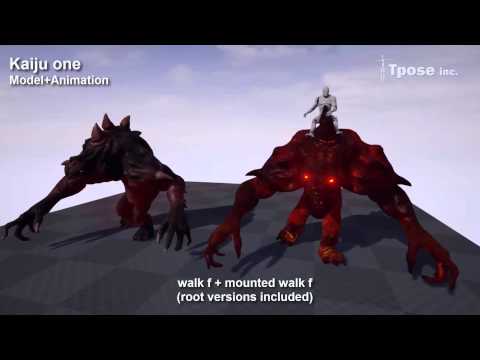 Behold the mighty Kaiju!
Weighing in at 15570 triangles, this beefy monster comes loaded with 130 custom animations, plus 7 more on the Unreal 4.8 skeleton, all at 60fps. Designed to be a boss fight of epic proportions, and tested in VR, his details holds up nicely even scaled to 100+ meters tall. The default size is closer to that of a well-known monster from the final movie of a well-known sci-fi trilogy, which is the scale you will want for the tandem animations to work.
Dominate, Mount, and Ride this boss around like a pet of epic destruction. (mounted versions of locomotion and Rider + Mount/Dismount included)
Pick up the puny Unreal 4.8 mannequin and Chew his head off, then toss him aside.
Rip boulders from the ground and Throw them at opponents. (boulder with default path included, blueprints not included)
Smash, Stomp, AOE and Melee with 9 unique attacks, (plus one if you want to make him breathe fire with "Roar")
4 different combat states, including Default, Blocking, Dazed, and Dazed-Blocking, all with hits and transitions.
Customize appearance with PBR Material Instances, including 3 presets for Default, Lava and Ice versions.
3 versions of each locomotion are included, with an in-place version, a root-motion version, and a hips-root-motion version that works in a certain other game engine.
Google doc with animation spreadsheet here
Enjoy!
T-Pose