Firstly, hello! I am Jon.
What I am hoping for is some thoughts about an idea I'm about to present. Hopefully I will know whether or not the idea is worth pursuing by the responses I receive, just so I don't go chasing a dream that I can't catch.
I am new to UE4, and I would still say I'm new to the whole concept of making 3D games, 3D modeling notwithstanding. I have been a self-taught artist for 14 years, with one 2D animation class last year that didn't really help tweak my drawing or animation skills. So I'm more of an artist / animator / idea man than a coding mastermind. Unfortunately, I'm hoping to work a job in software development one day, and I think I have a long way to go. But I really want to get there eventually.
I have tried to make games before, but only by using The Games Factory and Multimedia Fusion 2 by Clickteam. Obviously, the coding used in these engines isn't nearly as in-depth as coding in C#, C++, Java, what have you, but it gave me some logical experience that would aid in my coding classes last year.
I have more or less given up on the countless 2D game ideas I've started and dropped in the past due to a lack of knowledge, understanding, motivation, and/or focus. Most of them weren't fun anyway, because I mostly focused on the graphics, not what made the game actually fun. But I have been theorizing and studying the latter in recent years, and so I have decided that I would try this idea out.
I am not going to ask, "bruvvvv how do u make dis game". I am aware that this idea is almost certainly miles above my head and current understanding, but I'd like to try anyway.
I am going to ask this instead: do you suppose a game, like the concept I am about to present, could be both possible and hardware non-intensive / efficient?
---
The game takes place on 9 "planes", divided by tiles in 11 columns and 11 rows. Only tiles within 9 rows and 9 columns are accessible; the rest are just bumpers that make the plane look like it goes on, even though you can't go past the magically invisible walls to get to them.
You start from the first plane, Viens, working your way up as you find a way to ascend to the next plane. As you ascend, your current plane changes to the next one.
Technically, it's a (11 * 11 * 22) cube.
Gameplay-wise, it's actually (9 * 9 * 18).
I'll explain this and the reason for the doubled figures in a below section. But here's a picture for starters: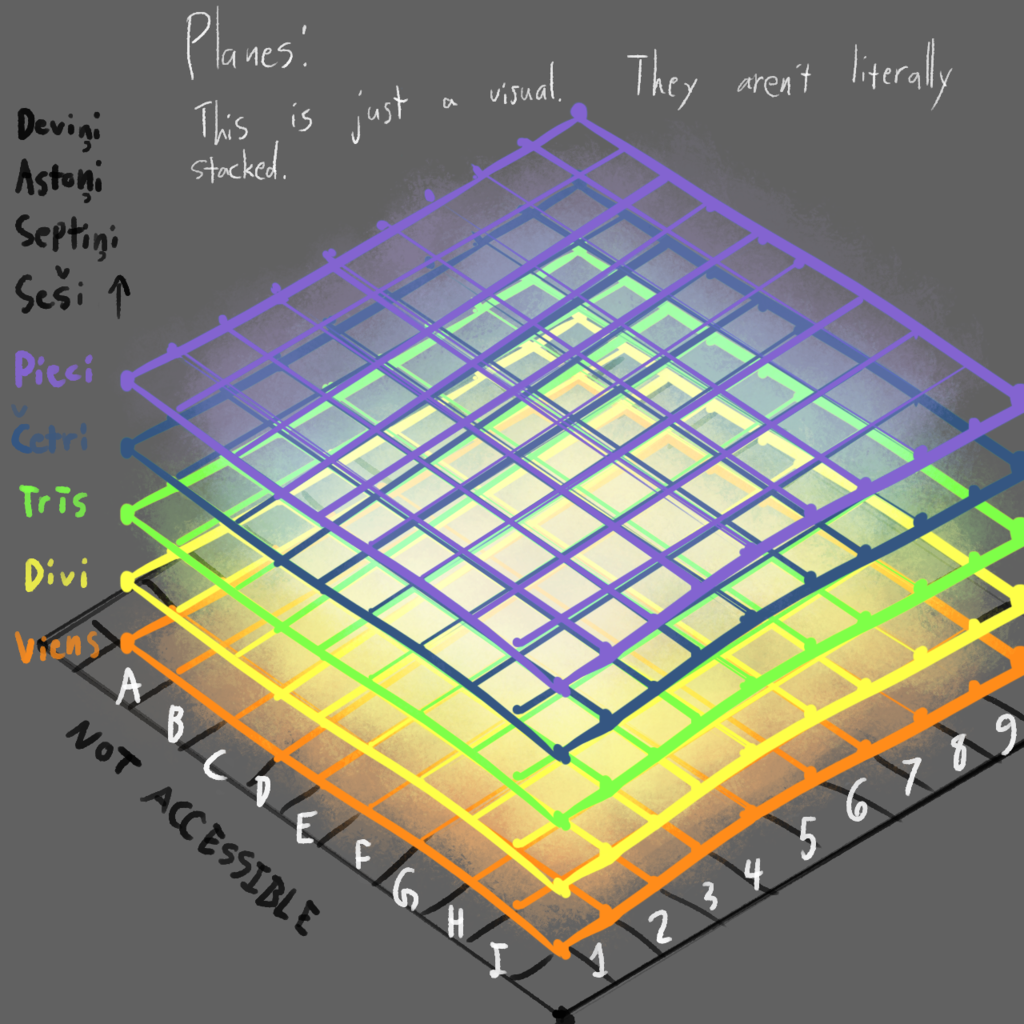 I believe something called "level streaming" could help with this, but I don't know how far it can be stretched or how it could be manipulated to a smooth effect. I haven't tried it out yet.
You can also (momentarily) switch between planes, at the exact same coordinates. Here's another picture:
Finally, you can invert planes. This is the reason for the doubled figures: each tile has a complete inverse, and when you invert, your height is calculated and set by how far from the ground you were when you switched, and then your momentum is resumed.
I tried this idea out with Unreal's landscapes—it wouldn't work for me. I think I'll have to model mesh objects as my planes, copy them, and then flip their normals. (I don't think double-sided geometry does the trick. I think I tried something similar in Unity but to no avail).
Here's a picture, and I hope it makes sense:
The 9 planes will have to be fairly large, much larger than usual because the game will take place at high speeds and altitudes. I definitely don't want the player to cross a plane from A to I in only 20 seconds, and that's with a walk speed of about 3000 – 4800. I'm thinking each tile will take about 10-15 seconds to cross (no obstructions and at full speed). If this helps give you a size estimate, that means it would take between 1.5 to 2 minutes to cross an unobstructed plane from one end to the other.
In the end, 11 * 11 * 22 = 2662 tiles. This includes the inverses.
I'm not expecting to be able to have the absolute greatest and most high-end graphics ever, and I believe I'm willing to forego any normal maps whatsoever if necessary. I like cartoony styles.
I'll try to figure out most of this stuff by myself, but I have to ask first: Can you perceive any way that this could be possible and reasonable? Or is this way too big for Unreal or any game engine to handle?
I really don't know these things. I just have ideas, and I need to know if they can be grounded in reality before I try to do them. Feel free to dumb things down for me, I know I'm new.
If you have questions or need to know more, please ask! And thank you a ton for looking at this and thank you a million times more for replying if you do!
Cheers,
-Jon