Instant Tanks is out on Marketplace / Play The Demo Here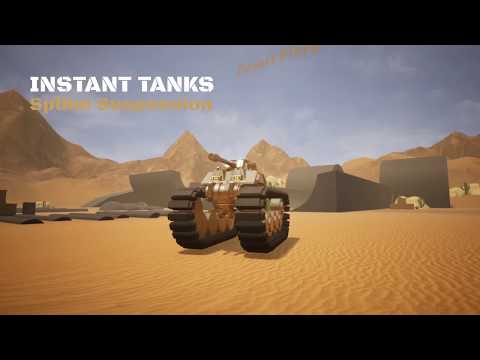 I created Instant Tanks system because I found it very challenging to create a Tank Tread from scratch. I wanted a system that worked out of the box allowing any mesh to be used as Treads for a Tank. From there I expanded the workflow so that anyone can make Tanks quickly and easily using this system, and the Suspension and Physics forces will account for the meshes and work out of the box. The System uses a series of Line Traces and does not rely on Collision, so results are approximations.
Also Included in this System is 3 Weapon Actors - Machine Gun, Tank Gun, and Mortar Gun, each with unique aiming and camera techniques. Including Projectile Interfaces to damage the environment, and settings changing weapon behavior. There's 4 example Tank Pawns and video instructions on how to edit them or create you're own and play them in the game. You can use your own static meshes to make an unlimited number of Tanks! There's also 2 Bonus Shaders included, one Sci-Fi Hologram Glow and another Procedural Camouflage Shader!
There's more info at the Marketplace link above. There's also some relevant links here too:
Detailed Setup Video / Discord/ Project Documentation PDF
Thank you so much for checking it out!
All feedback or questions are welcome