Hello there,
i am not sure, if this is the correct section, or if this would belong into UI or blueprint scripting. Well, i just want to ask, if anybody here knows a tutorial or a link to an helpful site for creating a kind of ingame script language or ingame visual scripting here in Unreal Engine (blueprints only, if possible), just like blueprints, but accessible from the game itself and changeable during runtime.
To show you, what i mean, there are some games, that are built around the idea of programming your bots or figures during the game, so that they act on their own and complete the tasks by themselfes (most of the time). Basically, you create their AI during the game, with parts and code, that you create during that game.
One of those games is "Main assembly" currently in development, and they use UE4 for it, here is a look at their solution: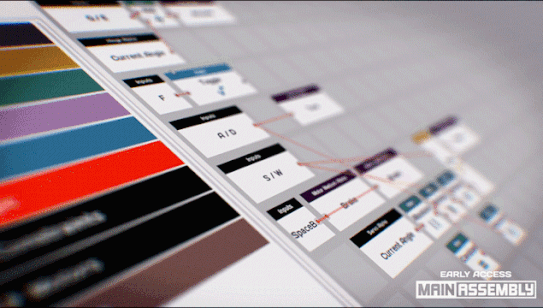 https://store.steampowered.com/app/1…Main_Assembly/
There you can see all the functions and parts, that the user can use to create the programming for his machines, and how he can connect them by just dragging and dropping them on the grid and connect the pins, just like our blueprints here.
Other examples would be systems like this are older games like Carnage Heart and its sequels (there it lacks the ability to connect nodes whereever you want, so its more puzzeling):
or with an old BASIC style programming language, the ancient DOS-game "Omega":
https://i2.wp.com/62.210.205.110/blogimages/omega_005.png?w=584
Thanks in advance