Hi everyone, I just released a new product on the Unreal Engine Marketplace. Grid Creation Systems is a collection of blueprints that allow you to quickly set up grid systems for your games.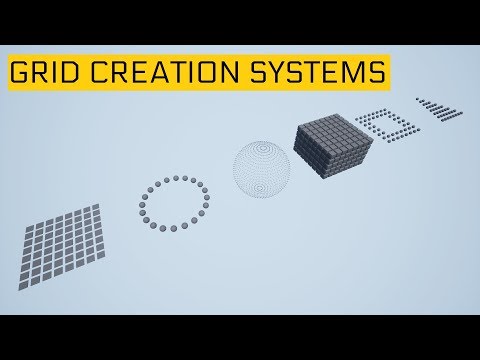 You can choose from a varied list of grid configurations including the basic cuboid and circular grids, the more advanced longitude-latitude based spherical grids, or even offbeat patterns like the hollow square and flying wedge. Simply drag & drop the grid configuration of your choice into the level & start customizing right away!
Right now it supports the creation of following grid configurations:
Rectangular/Square Configuration
Cuboid Configuration
Circular Configuration
Spherical Configuration (using longitude/latitude points)
Square Pyramid Configuration
Hollow Square Configuration
Flying Wedge Configuration
And I plan to add a few more configurations over the coming weeks. Will post videos of them soon. You can get all the latest updates either through this forum thread or the Grid Creation System youtube playlist: https://www.youtube.com/playlist?lis…sU9X3z9QnZq3wK
Also here are some screenshots of the various grid types:
If you have any queries or feature requests regarding the toolkit, you can always reach out to me personally through the Support Email.