https://lh3.googleusercontent.com/JqiIotS2VTmVCjSYVg97pInyvxbYcDN2bW3E1cC4bFziqD79HweopSbtMn1XFxuDlCsbyCDypdjDp_Ndu0Kjm7vHD-fHvmGbnGX3FIwcF9BOa8Qw40P3wFeiW8E8LELuZMIoNlPt
Hello fellow devs!
We are EvilCoGames - a team of 6 passionate developers hailing from Moscow, Russia. For the last 8 or so months we've been working on Gravewood High - a stealth horror game with roguelike elements and destructible environments.
https://lh4.googleusercontent.com/ENS2rpT8dFeBMybpZp7Ahg2JJp_K61lVAbjRQNVhBrppJ6OsJWyho2S2DVSGWBuPnWPhZh2ypDTHfBNXKOH-nNLWRmcB-gv7V_n8Amjb8-PlKKDLUJN70NGV-DZyQFM3BlqS02BG
We took the mechanics our team loved in rogue-likes, that sense of always seeing something new and unexpected, and added them to a stealth horror foundation. We hope that the resulting experience will be enjoyed by both children and adults.
Baby steps
The game initially started off as an action puzzler, where the goal was to set everything on fire within a given time limit. Even back in the early stages it was fun to mess around with large-scale level destruction. The UE4's capabilities were really helpful in this regard.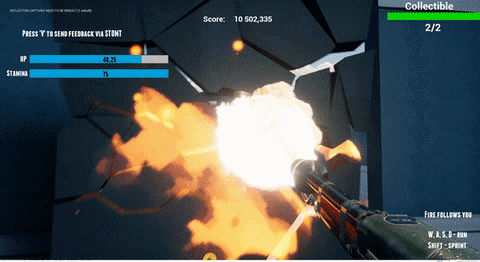 Although running around the level like a madman and yelling "Feuer Frei!" was enjoyable and, and times, hilarious, our team quickly realized that this alone did not make for an engaging enough experience.
Our team brainstormed a few ideas about making the gameplay deeper and in the end, decided to settle on a suggestion that came from a third party (more on that in future posts).
Childhood games turned into mechanics
https://static.wixstatic.com/media/9d5e56_dcfb9cd262ee4b42a7c58482906dd3b7
We needed something to add a bit more tension to the already implemented mechanics, so adding hide-and-seek elements felt like the right thing to do. Most players are familiar with the concept back from their yonder years, and we didn't need to spend a lot of time teaching the new mechanics. The callback to childhood was even stronger when decided to settle on a school building as the main setting of our game.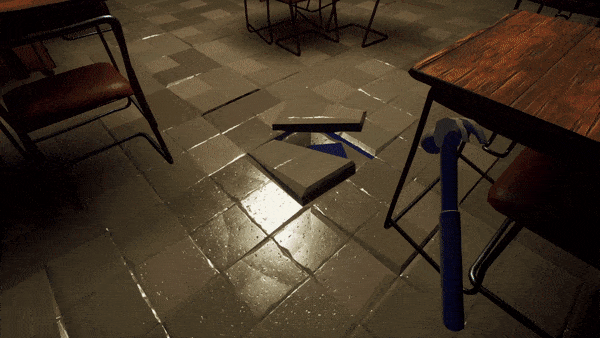 Destructible environments were kept as core part of gameplay, but we did have to scale them back a bit, since the focus was more on getting through the level while using the environment as a tool, rather than wanton destruction.
And who would the player be hiding against, you may ask?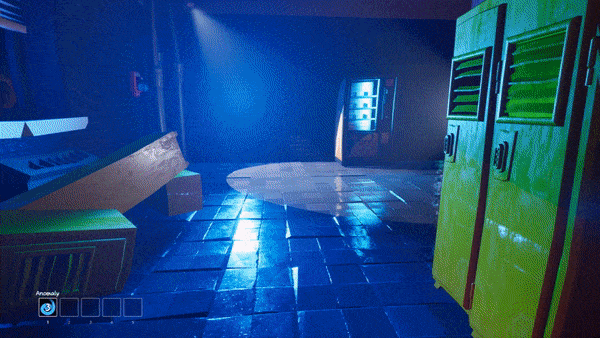 Our own version of the Big Bad Wolf, of course! That would be the Teacher (the charming guy on the poster above). A madman that is hellbent on catching the player and preventing him/her from finding out the terrible secret of the game.
Trailer and links
Here's the result of our work so far

https://forums.unrealengine.com/core/image/gif;base64
​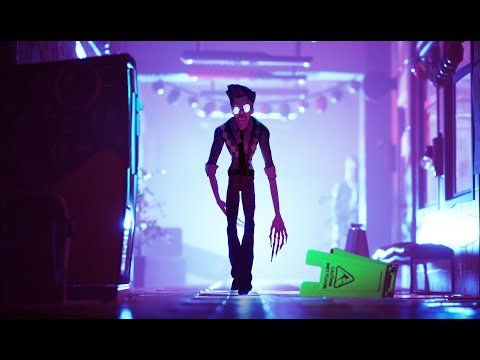 Thanks for reading this article and learning about our project! We will be releasing 've just a** public ALPHA on February 27th**, so sign up on the game's website if you are interested:** https://www.gravewoodhigh.com/**