Hello Forum!
I'm working on a template for FPS game sin UE4. It's aimed to be mainly educational, with full documentation and step-by-step in engine tutorials for people new to game creation in UE4.
The point is for people to have a project which contains everything needed to make a small game in one place, and to give the basics to make something bigger.
I haven't really seen anything like that around, except for the shooter tutorial.
I will make a small shooting range, with scoring system and highscores (offline for now). Want to add ingame menu with graphics settings, input settings etc. But only on basic level.
Currently I'm working on the weapon system, it's mostly done.
The UI reacts to data received from the character, like what weapon he has equipped and how much ammo it has.
There is also weapon spread, but it needs some work, sometimes it does stupid stuff.
Crosshair reacts to movement and weapon spread.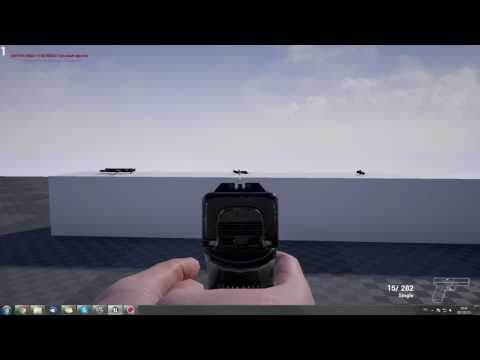 Made this partly from tutorials all over the internet and the other part by myself.
Started out with the Shooter Tutorial, great stuff. Then youtube videos, forums, answerhub etc.
All assets and animations are made by me.
In case you're interested in getting these assets you can find them on >>CGTrader<<](https://www.cgtrader.com/3d-models/various/various-models/fps-starter-pack).
I'd love to know what you guys think

Greetings,
contmike