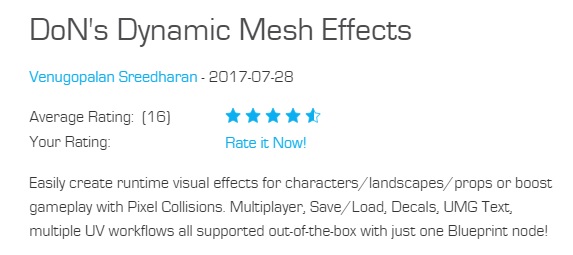 Get it here!
Marketplace Link
Per-Pixel FX and Gameplay
Runtime Mesh Painting, Pixel Collision API & more…
Now Released on UE4 Marketplace

](DoN's Dynamic Mesh Effects in Code Plugins - UE Marketplace)
Video Overview: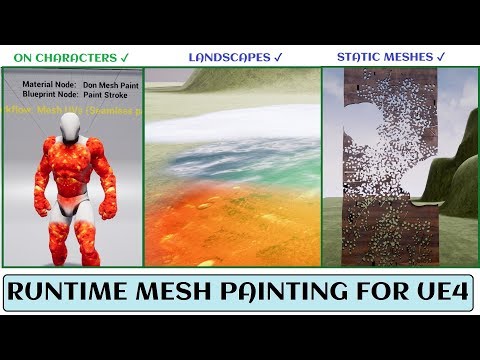 Boost your Visual FX & Gameplay with a rapid mesh painting solution that works on any mesh, provides custom collision and provides, Saving/Loading and Multiplayer out-of-the-box.
Here's how your game can benefit:
1. Paint Per-Pixel, Collidable Visual FX for Characters / Landscapes / Props
The Background:-
Traditional Hit-based effects (collision uvs) only work for static meshes and are not seamless.
Your physx collision is often out of sync with your visual effects; Eg: Bullet holes effects on walls, etc
Multiplayer, Saving & Loading to disk is another complexity most users will need to solve.
DoN's Solution:-
A single BP/C++ node that handles all this complexity for you, works on any Mesh, and provides pixel collisions for your gameplay needs (via the "paint blob collision" API).
Saving & Loading and Multiplayer supported out-of-the-box!
Choose from several UV workflows including Mesh UVs, World space UVs or Local space UVs along any axes
Advanced features like unlimited number of dynamically spawned actors, landscape replication, performance throttling for positions recapture (think about fast moving animations for characters), multiple effect layers, decals, brushes, UMG Text, Saving and Loading support and more!
2. Paint Decals - lots of them! (no decal actors involved)
Now stamp an unlimited number of decals on any mesh with the performance cost of a single texture sampler in your material - no decal actors involved.
This works even for skeletal meshes, something that isn't easy to achieve in a regular positions-texture workflow.
3. UMG Text Tattoos for characters
Your players can now tattoo your characters with not just decals (see above), but also with UMG text!
Create custom shirts with names, numbers, or paint text tattoos on arbitrary locations chosen by your player.
Note:- Text/Decal projection is not seamless! Results are UV layout dependent. Unlike painting effects, text projection will not work across separate UV islands. Remember that while UV-ing your characters

and finally, drumroll
4. DoN's Paint Blob Collisions
Create portals in walls or floors
Fire projectiles through holes painted by players in-game
Create painted lava traps, obstacles, etc for A.I with full multiplayer support!
Using paint strokes as collision data you can generate endless gameplay possibilities, for practically any genre.
Buyer's Note:-
This is not a physical solution, custom collision API is used. On the bright side, you don't pay the performance cost of runtime collision cooking or voxels which are inevitable in physical solutions and in many cases your players will have far more control with "paint blob collisions" than they would with physx collision bodies!
5. Global Effects
Rapidly implement global FX like Fog-Of-War systems with just a few nodes!
A new context-free world-space painting node was implemented for this. Check out this post for a sample material for an FoW system like the one below:
**~ My Previous Works ~ **
For reference, you can check out my previous plugin - DoN's 3D pathfinding which has been well received on the Unreal Marketplace. You can expect the same level of quality and commitment to excellence with this plugin as well

You can also check out Drunk On Nectar, my game on Steam whose technology stack features many other neat systems which may be of interest to you!

This plugin has been now submitted to the Unreal marketplace and I hope to bring it out to everyone soon.

Feel free to ask any questions!

- Venugopalan Sreedharan