Dear unreal community and fellow devs,
I have finished my first project Diesel Power and I 've been trying for a while now to get into the Steam and Oculus Store.
I would appreciate it very much if you'd take your time to log into Steam and give me a "yes" vote.
Thanks a lot in advance and see below for information about the game and myself
Cheers
Mimi
http://images.akamai.steamusercontent.com/ugc/108480551730764004/6DB2ADF7EBBCBA72A0F9E2CE77D1BCF302AD8A39/?interpolation=lanczos-none&output-format=jpeg&output-quality=95&fit=inside|637:358&composite-to%3D*%2C*|637%3A358&background-color=black
Diesel Power
Diesel Power is inspired by classic arcade racers and brings their gameplay to VR.
Best described with the words: Raw. Challenging. Enraging. Satisfying. One more round!
The goal is simple: Get to the end of the track
The challenge: There is no track
You race a hover car over the visible part of the track while searching actively for trigger points to spawn the next section.
Unexperienced drivers need to be aware as they may not know if the track is about to go left, right, down or up.
Don't dawdle as foes or even the track itself will end your game early otherwise.
During all this you may want to collect extra points and find secrets paths to get a higher score.
An excessive use of the quick restart function is inevitable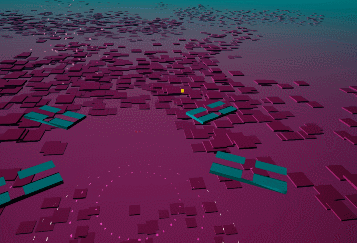 About the game
The goal for Diesel Power was simple: create an arcade game for VR and make use of its unique features.
I am always amazed by drummers - who are able to perform different beats at a time - therefore I took game design choices that embrace such mechanics.
The game wants you to act quickly while its giving you tasks which are probably opposing your current action.
Everyone of us is able to navigate a vehicle on a track. But are we able to do it while being forced to look away under stress?
It sounds simple. The game is simple. But Diesel Power requires new motor skills and is expecting you to be an experienced VR user as its gameplay is not limited fearing to cause nausea.